Anti-crime effort seeks help from everyone to reduce violence in Warren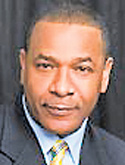 Photo
By Ed Runyan
WARREN
On the same day officials announced a new program will begin this month to save young men from lives of crime and violence, Warren leaders and community members met to talk about ways everyone can get involved.
Mayor Doug Franklin, one of seven panelists at New Missionary Baptist Church on Tod Avenue Southwest, was quick to point to Richard Rollison III of Warren, whose son, Richard Rollison IV, was killed by gun violence Oct. 26, as a person who has shown his commitment to peace.
"By the grace of God, he used his grief for grace," the mayor said, referring to the impassioned plea the elder Rollison made a week after his son was murdered, asking at a press conference for an end to a series of incidents apparently connected to an Oct. 16 killing by a Warren police officer.
"In the midst of burying his only son, God saw to use him to take men who had retaliation on their mind and use it to bring peace," the mayor said.
But it's important that other citizens "stand up and stand tall," Franklin said. "The police department needs to know that the community has their back. Support the police department. Support City Hall, and support the neighborhood groups."
At Tuesday's meeting, called by the Mahoning Valley Organizing Collaborative and Warren Neighborhood Leadership Council, the mayor called for "the end of violence and a beginning of a new day in which we all become partners in the process."
Police Chief Eric Merkel told the crowd of about 150 that he was skeptical when he was invited to Akron to see how the Ohio Attorney General's Safe Neighborhoods Initiative works, but said he was "moved by it" and decided it was worth a try to "take another angle" on reducing violence.
Merkel said the program acknowledges that there are some "bad actors" in the community who commit a large amount of the crime.
The Safe Neighborhoods program gives criminals an opportunity to meet with local, state and federal law enforcement as a part of their probation or parole.
The program identifies the most serious offenders and "presents a message from the community, clergy, social services, victims and reformed offenders and tells the offenders they are tired of the grief and the pain they are causing, Robert Fiatal, assistant Ohio attorney general, told the audience.
He said offenders are offered a "golden ticket, a phone number to call any time of day or night to get out of that life."
The program begins this month and will be staged in the courtroom of Judge Andrew Logan of Trumbull County Common Pleas Court. The organizations that will participate are the Warren Police Department, Trumbull County Sheriff's Office, Trumbull County Probation Department, Ohio Adult Parole Authority, U.S. Drug Enforcement Administration, Federal Bureau of Investigation, and Bureau of Alcohol, Tobacco, Firearms and Explosives.
Offenders also are given access to job training, alcohol and drug rehabilitation and other social services.
"We are all joining together in a common message. We want to give them information to make good choices," Fiatal said.
The strategies used in the initiative previously have been used in many communities across the country to produce drastic reductions in gun-related crime, Ohio Attorney General Mike DeWine said in a press release Tuesday.
In Cincinnati, a similar effort led to a 41 percent drop in gang homicides and a 22 percent decrease in other violent firearm incidents, DeWine said. Akron and Steubenville also are engaged in the process right now.