Retiree crafts a variety of toys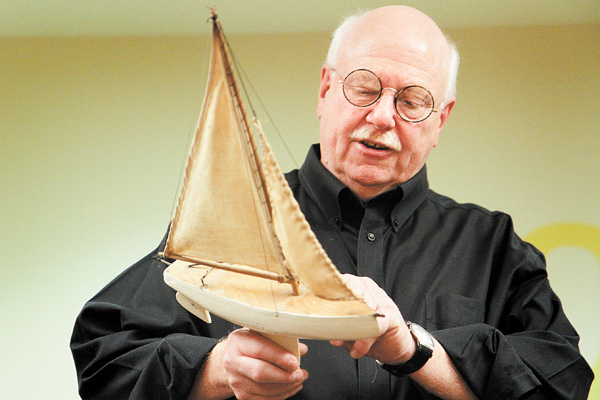 ---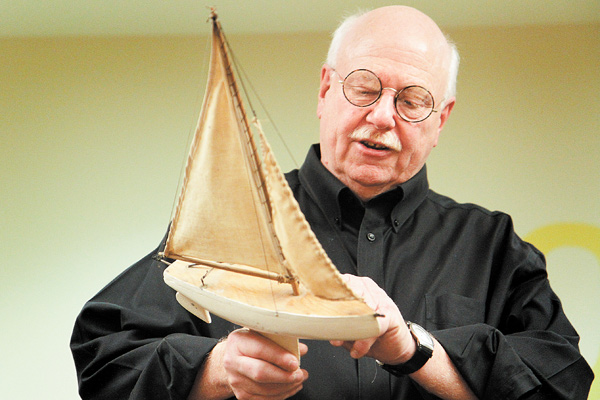 Photo
Court Strudwick of Poland discusses how he makes toys during OH WOW!'s recent After Hours program for adults.
By Sean Barron
YOUNGSTOWN
Any critique of Court Strudwick's toy-making talents probably should take into account that he isn't afraid to think — and build — outside the box.
"My father and grandfather made toys, so it's second nature," the Poland man said during a recent After Hours program for adults at OH WOW! The Roger & Gloria Jones Children's Center for Science & Technology, 11 W. Federal St. "I come from a long line of makers."
Strudwick, a 12-year art teacher who also spent 25 years designing furniture, discussed how he made a variety of toys, many for his grandchildren.
The General Fireproofing Office Furniture retiree also had several samples of his work on display, such as a 90-year-old tugboat with planking his grandfather made when he was quarantined with Scarlet fever and needed something to occupy his time, explained Strudwick, who also has volunteered weekly at the center for about a year. A clock motor runs the boat, which also has beeswax to prevent leaks.
"As you can see, it still works after 90 years. I'd like to see some of these modern toys work that long," Strudwick said to laughter.
His other offerings included a push car for one of his grandsons; a horse made of wood from a shipwreck off the coast of Muskegon, Mich.; a rabbit from pine wood; a lamp with a bullfrog that opens its mouth with a push on the foot; inchworms from beech wood and vinyl; a set of three penguins and a wooden pinball game.
The largest item was a rocking horse his father had carved. It includes saddle hair that came from England, he explained.
Among Strudwick's favorite works are a duck that wobbles its head when pulled and a wooden hedgehog that slowly struts down a ramp.
Strudwick, a 1973 Michigan State University graduate, said he initially intended to enter the toy business but decided to do it as a hobby.
He also showed his audience a short film that featured additional toys and games he's made over the years, most for his young grandsons. Those include a pool table, a set of chairs, a building set with plastic tubes and high chairs shaped like rabbits.
After his presentation, Strudwick had audience members form teams to make spool cars from spools, rubber bands, washers, thin wooden sticks and paper clips.
"Each of our volunteers has such talent. It's amazing," said Audra Carlson, OH WOW's education manager.
Suzanne Barbati, executive director, said she wished to thank Star Supply Bargain Outlet of Youngstown for donating some materials.