Mooney's growth leads to title run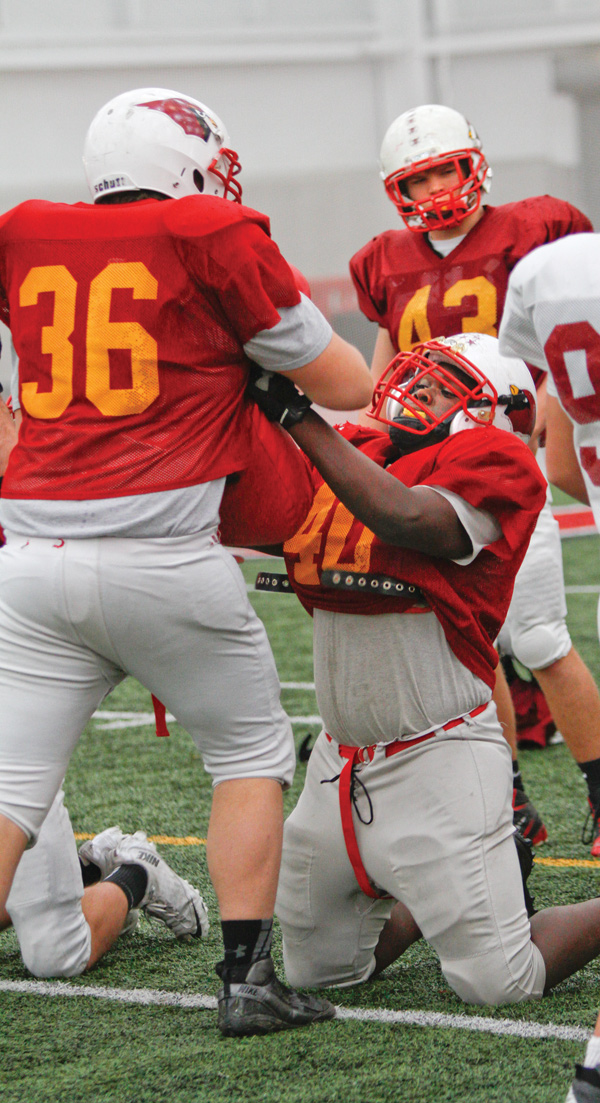 ---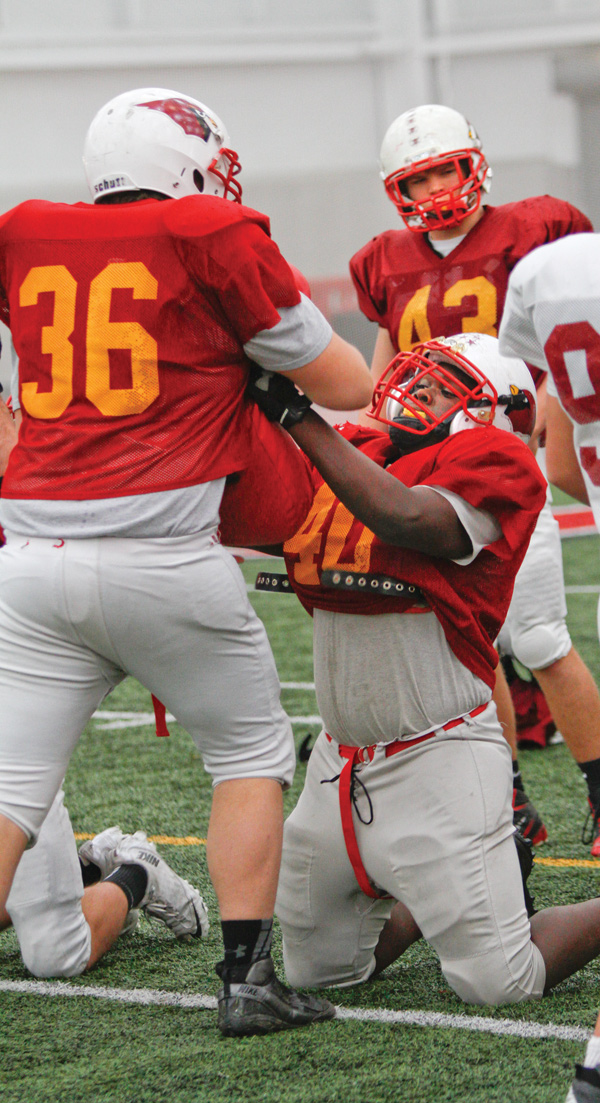 Photo
Mooney players Anthony Dermotta (36) and Andrew Armstrong (40) run through drills at Monday's practice at The WATTS at YSU. The team meets Clinton-Massie on Friday for a Division IV state title.
Cardinals coach P.J. Fecko said foundation was laid in offseason
YOUNGSTOWN
The Cardinal Mooney High School football team has won seven of its last eight games and is preparing for Friday's Division IV state title game against defending champion Clarksville Clinton-Massie.
Monday after practice, head coach P.J. Fecko talked about his team's progression from the offseason to the postseason and how it has been able to find success at just the right time.
What he didn't mention was a specific player's name at any point in the process. Then again there hasn't been one single player who's been the difference for the surging Cardinals.
"It's kind of unexplainable to point to one single thing that's been the cause of our success, because it's been everybody," Fecko said. "It's been a team effort at practice, on Friday nights, and I know it's a clich but it truly is a big factor in where we're at."
Fecko's full of clich s, but he's also a coach confident in the system he has in place and with good reason.
A 1992 graduate of Cardinal Mooney, Fecko will be coaching in his seventh state championship in 14 years. His Cardinals have won four times with a chance to add another title Friday.
Although success this time of year has become somewhat of an expectation at the school, Fecko knows that without the work put in over the summer the winter can feel very cold.
"I thought our guys did exactly what they needed to do in the offseason, through the summer, and it was pretty evident in [two-a-days] that this team at least had the foundation to make a run," he said. "Now where it was going to go from there was still a question mark."
More than 15 weeks later, the Cardinals have answered almost every question that's been asked of them. They played through a very difficult regular season schedule and came out with a 6-4 record, earning them a spot in the postseason. Once in the playoffs, each win has been more impressive than the one before it.
Yet there was still one question Fecko was unable to answer Monday: Did he believe this team had a championship makeup prior to the season?
"You definitely saw the foundation for it," he said. "I don't think you could ever say this is a championship team. I mean the scenarios over the course of a season, there's so many variables that need to fall into place, but I think we had the foundation to go a long way."
Where the foundation began to solidify was often during the losses, Fecko said. He could see the team improving each week, which is something he calls, "a big ingredient to making a title run."
"It's about getting better mentally, getting better physically through technique and getting better through a sense of a common goal," he said. "We've had no issues with [selfishness] and everybody has the team in mind. There's nobody that was hung up on any type of personal gain."
The Cardinals' common goal will face its final question of the season Friday at 3 p.m. at Paul Brown Tiger Stadium in Massillon.
More like this from vindy.com