Hunters go from woods to web after harvesting deer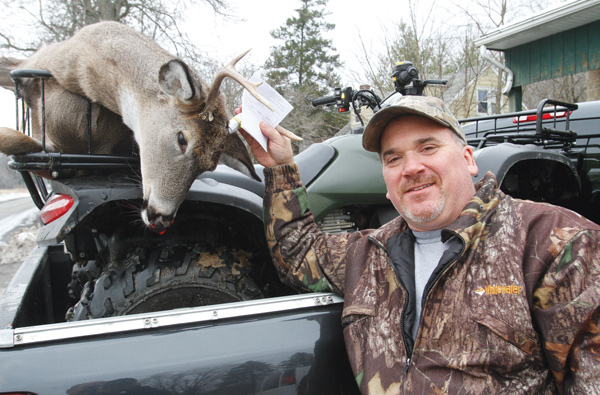 ---

Photo
Pete D'Amico of Garrettsville checks in a six-point buck at Monty's Mosquito Lake Carry Out in Mecca on Monday, which was the first day of deer gun season in Ohio. Deer processing sites across the Valley saw a decrease in the number of hunters who brought deer to be checked, instead choosing to do so online.
YOUNGSTOWN
The Internet has finally made its way into the woods.
As the first day of white-tailed deer hunting season came and went Monday, local businesses found that many of their customers, who used to check their deer on site, are now choosing to do it online.
Many checking sites had a rather under-whelming opening day for gun season and with the alternative options available, store owners believe this may be a continuing trend rather than a rare occurrence.
Karen Falb, of Columbiana, said Millstone Farm and Garden Center had just a few hunters stop by Monday to check in what they had collected. As the week progresses, Falb expects similar numbers, if not fewer.
"A lot of people come in before hand to purchase their tags, but as far as checking in most will just do it online now or even over the phone," she said.
Falb said the convenience of the online option definitely changed things this year for her business.
She wasn't the only Valley resident noticing a difference.
For five years Chuck Kalentis has owned A&C Fish N Game in Berlin Center. He said the turnout wasn't bad Monday considering his store's remote location, and feels the friendliness of local places like his is what keeps the customers coming back.
"I had a few people that came in and got a second tag here after getting their first online," Kalentis said. "But for the most part people are liking to come in here."
A&C Fish N Game had at least 10 hunters stop for check ins according to Kalentis. He added that he saw a lot of nice deer come through throughout the day, so his guess would be that the conditions were pretty good.
He is concerned, however, about the remainder of the week with the warmer weather forecasts. Kalentis knows how difficult deer hunting becomes when the climate gets warmer.
"When all the snow melts hunting gets harder," he said. "All the deer just lay down and that's pretty much that."
One tradition that continued for many Cortland-area hunters was Monty's breakfast at Monty's Mosquito Lake Carry Out & Restaurant. Patti Smith, who took over ownership of the business last month, said she opened her doors at 5:30 Monday morning for hunters looking for a home-cooked meal to start their day.
Monty's has been around for 30 years and became known for its pre-hunting meals. This year however, they weren't immune to the drop in numbers either.
"We had about 60 check in [Monday]," Smith said. "That's down from around 150 last year though."
She added that many of the hunters were pleased with their results saying, "this was the best year they've had in a long time as far as what they brought in."
Smith said Monty's doesn't rely on deer hunting season as much as smaller places do, but she does feel bad for those people.
"It kind of hurts the entrepreneurs that are out there trying to make a business," she said. "We have the restaurant side too, which helps us, but not everyone has that."