Cold Weather Emergency Shelter Program runs through March 31, 2014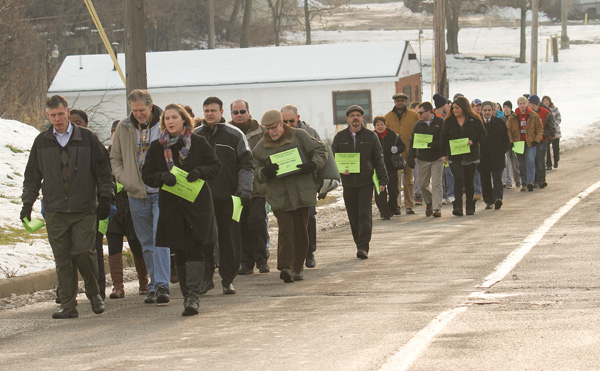 ---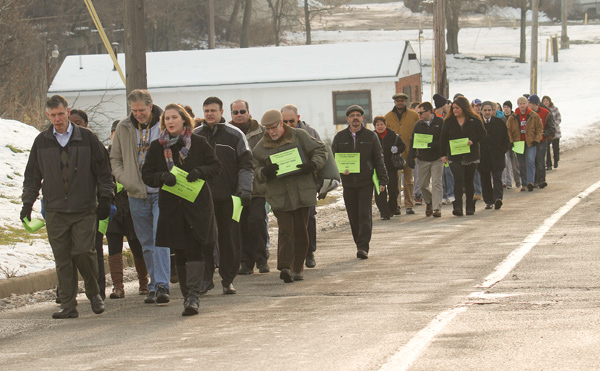 Photo
Local social-service agency leaders march on Monday from the St. Vincent de Paul Society soup kitchen on Front Street in downtown Youngstown to the Rescue Mission of Mahoning Valley on Martin Luther King Jr. Boulevard, also in Youngstown, symbolically tracing the footsteps of homeless people, who often make this trek in harsh winter weather.
YOUNGSTOWN
Hope Haney, a case manager at Turning Point Counseling Center, was one of the estimated 40 people who participated in Monday's sixth annual Homeless Walk to raise awareness about homelessness in Mahoning County.
"I do this every year. I have a passion for homelessness and mental illness when the two intersect. I am a shepherd, I help other people," said Haney, who is a Turning Point liaison with the Rescue Mission of Mahoning Valley.
Fifty percent of the people at the Rescue Mission have some kind of mental health concern and 35 percent have a serious mental illness, Haney said.
The Homeless Walk also aims to raise awareness of the county's Cold Weather Emergency Shelter Program, of which the Rescue Mission is a big part.
Among those participating in Monday's Homeless Walk were members of the Canfield High School hockey team.
For Patrick Byrne, 15, a tour of the Rescue Mission was an "eye opener. I didn't know about the Rescue Mission and what it does."
Nick Crescimanno, 17, whose mother, Mary, suggested that the team participate in the Homeless Walk as a way for the team to bond and participate in a good cause, said walking was an opportunity to help make people aware that homelessness is a problem and that it can be very dangerous.
The goal of the Mahoning County Continuum of Care and its member agencies is to eradicate homelessness, said Nancy Voitus, executive director of Catholic Charities Regional Agency and chairwoman of the Continuum of Care board.
The Continuum of Care, comprised of representatives from numerous public, private and nonprofit agencies, is concerned with the development and coordination of services and housing for homeless and low-income people.
A homeless person is not limited to someone who literally lives on the street.
The federal definition of a homeless person is an individual without permanent housing who may live on the streets; stay in a shelter, mission, single-room occupancy facilities, abandoned building or vehicle; or in any other unstable or nonpermanent situation. An individual may be considered homeless if that person is "doubled up," a term that refers to a situation where individuals are unable to maintain their housing situation and are forced to stay with a series of friends and/or extended family members.
The 2013 Homeless Walk began at 9 a.m. at the St. Vincent de Paul Soup Kitchen at 208 W. Front St. and ended at the Rescue Mission of Mahoning Valley at 962 Martin Luther King Jr. Blvd.
The Cold Weather Emergency Shelter Program, which began Dec. 1 and runs through March 31, 2014, provides shelter to homeless people and families in Mahoning County during the winter months.
The goal is that no one freezes to death because they do not have anywhere to sleep, said Duane Piccirilli, chief executive director of Help Hotline Crisis Center.
Anyone in need of emergency shelter is urged to call Help Hotline, the 24-hour crisis intervention, information and referral service, at 330-747-2696.
Help Hotline will ensure that callers obtain shelter and, if necessary, it will arrange taxi service to the shelter.
The walk is "to symbolize what the homeless in the Mahoning Valley have to deal with in the wintertime," said Piccirilli. "Most of them eat here, and they walk to the mission in some very frigid temperatures," he said, referring to the Front Street soup kitchen, where he spoke just before the walk began, and to the Rescue Mission.
"We're seeing not just men, but women and children having to endure this, so we just want to symbolize that and bring attention to it," Piccirilli added.
It takes a whole community to make the Cold Weather Emergency Shelter Program work, said Jim Echement, executive director of the Rescue Mission, which provides overnight shelter for men and short-term residential services for families.
Contributor: Staff writer Peter H. Milliken