Pavlik, Lakeview win on historic night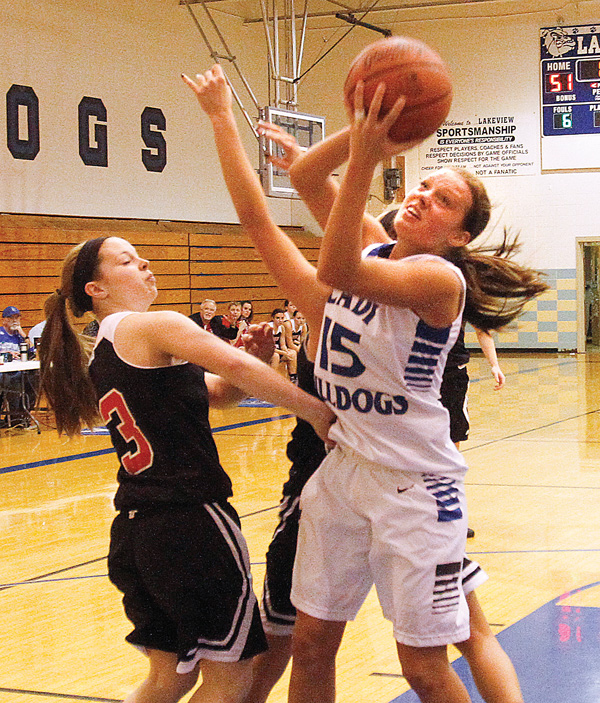 ---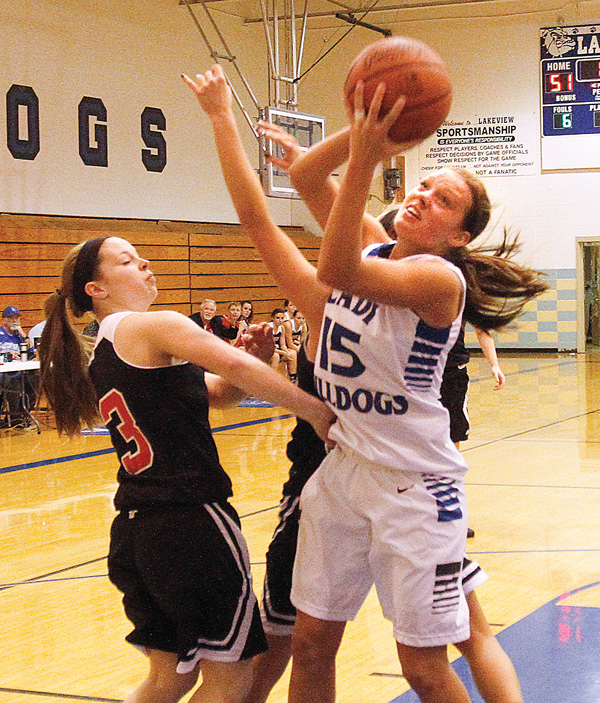 Photo
Lakeview's Alli Pavlik makes a layup to reach her 1,000th career point as Struthers' Caitlin Kane tries to block during Monday's game in Cortland. Pavlik posted 24 points for the Bulldogs, who downed the Wildcats, 69-56.
Pavlik lifts Lakeview over Struthers,
reaches milestone along the way
By Tim Cleveland
sports @vindy.com
CORTLAND
Monday night's game against Struthers could not have gone any better for Lakeview's Alli Pavlik.
The senior not only surpassed 1,000 career points, she also led the Bulldogs to a 69-56 victory to remain undefeated.
"My goal the whole game was to just to get the win first," she said. "The 1,000th point was second. It wasn't my mission to get it before the win or take anyone's points away, but I knew when I was getting close, those last three layups. I think it was just nerves. I'm just glad I finally got it, because now it's over I can breathe a little bit."
Pavlik is a two-sport star for Lakeview. In addition to her basketball point total, she also has 137 goals for the soccer team, a school record.
Lakeview coach Adam Lewis said Pavlik assured him the thought of making 1,000 wasn't paramount in her mind.
"It was kind of the elephant in the room all week," he said. "We knew Struthers is one of the more difficult teams on our schedule. We've never actually beaten them in five years.
"I talked to her tonight before the game, she told me, 'Coach, I want to win this game more than anything. I don't really care about the 1,000.' I thought she gave a very selfless performance. It's a testament to her character and the type of player she is."
Pavlik hit the milestone with 1:08 left in the third quarter. After missing three consecutive layups, she put away a layup under the basket to gave Lakeview (4-0) a 53-36 lead.
"They're good kids and they play hard," Struthers coach John Grandy said. "I think we had a little bit of a lid on the basket, but they made good efforts all the time.
"We got shots, we got rebounds, we got extra shots, we didn't put them in. We'll start making those shots."
That was evident in the stats, as Lakeview was 24 of 49 from the field, while Struthers made just 21 of 62 shots.
Lewis said that Pavlik seemed to press as she got close to 1,000.
"I think as it got closer, she just wanted it to be over," he said. "All that anticipation, she was trying for it when she had 16."
Pavlik finished the game with 24 points and now has 1,006 for her career. She is the fourth Lakeview girl to achieve four figures and the first since Ali Gagne in 2012. Gagne is Lakeview's all-time leading scorer with 1,172 points, a mark Lewis said Pavlik has a chance to get.
"If she keeps her average up," he said.
Lost in the celebration of Pavlik, Struthers (0-1) got itself back in the game, whittling a 20-point, third-quarter deficit to 59-53 as Brittaney Zupko made a free throw with 1:42 to play.
"I think it was all that anticipation for her getting that tonight," Lewis said. "We knew Struthers was a really tough opponent. They're well-coached, and we kind of figured they would make a comeback."
With the Bulldogs' big lead nearly gone, Pavlik put her team on her shoulders one more time. She made a pair of free throws, then added another basket for a 63-53 lead. Later on, she fed Calli Schmitt for a basket, then had a steal and a layup to give Lakeview a 67-54 advantage.
"They're a very good team, and we knew that to beat them we'd have to play the best defense ever," Pavlik said. "In the fourth quarter, they came back. I was getting a little bit nervous, but we luckily got a few steals and buckets to seal the deal for us."
Rachelle Calvin gave Lakeview a big boost in the third quarter. She scored 14 of her 20 points in that frame, making four 3-pointers. Her final triple gave the Bulldogs a 47-27 lead, their largest, with 3:31 left.
"I was happy; I liked the feeling and my confidence finally increased a little," she said. "I was really happy. I didn't want to steal the thunder from Alli, because Alli played an amazing game."