County commissioners and clerk to participate in Lose and Win
---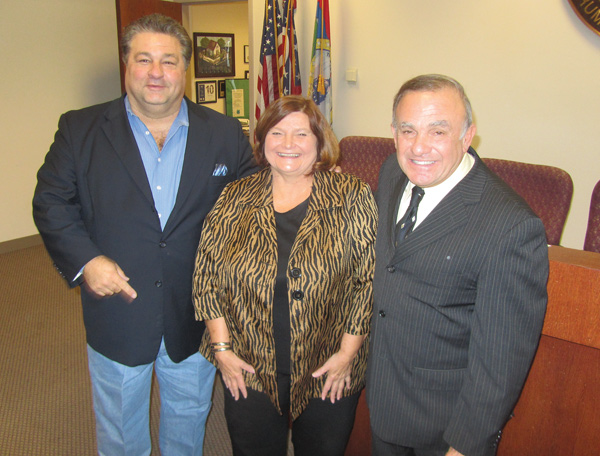 Photo
Trumbull County commissioners Dan Polivka, left, and Frank Fuda, right, along with commissioners' clerk Paulette Godfrey are among 30 county employees taking part in the 16-week Lose and Win program in which they will exercise and receive counseling on nutrition.
By Ed Runyan
WARREN
Trumbull County Commissioners Frank Fuda and Dan Polivka say they believe they can lead by example and improve their own health by participating in the Lose and Win program.
"I have blood-pressure medication and cholesterol, and the idea is to bring my blood pressure down, so I can get off of the medication," Fuda said.
"Lose and Win is a good program for the county. It's an investment in our employees," Polivka said.
Thirty county employees have signed up to participate in the 16-week program that begins the second week of January.
Employees were eligible if they had a body-mass index of 27.5 or more. As an example, a person 6 feet tall and 180 pounds has a BMI of 24.4. Each participant will join one of two 15-person groups that will meet at the Warren YMCA either at lunch time or after work, on their own time.
They will exercise and receive health-related counseling for 45 minutes once per week at no cost to the employee. County commissioners recently approved paying $38,500 to run the program, but they figure to recoup that investment through reduced health-care costs.
Fuda said he typically walks about four to five miles per day, but it's harder to do in the winter, so this will help him reach his health goals.
"I've struggled with it myself over the last couple of years," Polivka said of health benchmarks such as weight and blood pressure.
He joked that one of the unofficial goals of the program, offered through health-insurance company United Healthcare, is to "take the fat out of government."
Fiscally, county officials "look at things pretty close," he said. "Now we'll look at our waistlines a little closer," he quipped.
Paulette Godfrey, the commissioners' clerk, also will participate in the program, saying "getting healthy all around is important and overdue to make it easier on my knee replacement."
Zachary Svette, chairman of the county's Wellness Committee and operations director for the Trumbull County MetroParks, said getting a better handle on health issues such as diabetes through Lose and Win can help reduce the incidence of serious health problems such as heart disease.
A class schedule provided by United HealthCare lists the topics to be covered in each of the 16 weeks of the course. They are healthy weight, exercise for weight loss, healthy eating, health habits, overcoming exercise barriers, healthy eating in restaurants and at home, managing stress, staying positive, a healthy eating plan, being healthy while traveling, "super foods," dietary fat, preventing Type 2 diabetes, healthy eating on a budget and final check of BMI.