Miss Braden, Mr. Whiteleather are engaged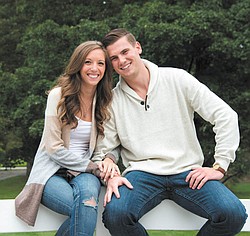 Photo
Sara Braden and Ryan Whiteleather
Sara Beth Braden and Ryan R. Whiteleather, both of Chicago, are engaged.
The parents of the bride-elect are Paul Braden and Susan Wilcox of Kent.
Richard and Charlene Badger of Edinburg, Ohio, and Rick and Marcia Whiteleather of Deerfield are the parents of the future groom.
The couple will exchange vows Sept. 6, 2014, at the Inn of Honey Run in Millersburg, Ohio, where a reception will follow. Invitations will be extended for both.
Miss Braden graduated with honors from Indiana University in Indiana, where she earned a bachelor's degree in marketing. She works as a media planner for Digitas Chicago.
Her fiancé earned a bachelor's degree in marketing from Walsh University. He works as a business development manager for the Addison Group in Chicago.