HAPPY 100th BIRTHDAY | Victor J. Burick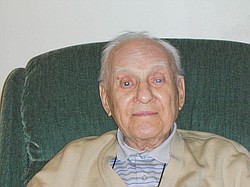 Photo
HONOREE
Residence: Warren.
Date of birth: Nov. 22, 1913, in Duquesne, Pa.
FAMILY
Parents: Joseph and Anna Burick.
Siblings: Joseph Burick. Theresa, Cyril, Alex, Mary, Mildred, Olga, Martha and Hilda all are deceased.
Spouse: Marie, deceased. They were married June 1, 1941, at Sts. Peter and Paul Church in Warren.
Children: William and Thomas of Warren and Kathleen of Clio, Mich.
Grandchildren: Seven.
Great-grandchildren: 14.
BACKGROUND
Education: Warren City Schools, two years at Penn State University.
Employment: Republic Steel.
Church memberships: Sts. Peter and Paul, Warren.
CELEBRATION
Date and location: Mr. Burick's family celebrated his birthday with him at a party Nov. 30 at Shepherd of the Valley, Howland.