Smith-Vargin wedding plans set for Sept. 20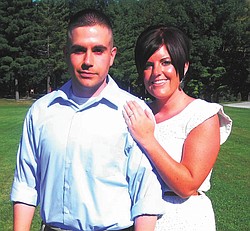 Photo
Peter J. Vargin and Kelly A. Smith
The parents of Kelly Ann Smith and Peter John Vargin are announcing the couple's engagement. Her parents are Beverly Whitehouse of North Jackson and Gregory Smith of Bradenton, Fla. His parents are Rick and Donna Vargin of Struthers.
The couple, both of New Middletown, are planning a ceremony for 2 p.m. Sept. 20 at St. Nicholas Church, Struthers. An evening reception will take place at The Georgetown in Boardman. Invitations have been issued for both.
The future bride and her fiancé both earned bachelor's degrees in fine and performing arts at Youngstown State University. They are employed by Liberty Mutual Insurance in New Castle, Pa., as licensed insurance agents.