Jorjena Daly, Brett Barringer are engaged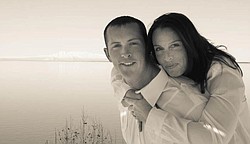 Photo
Brett A. Barringer and Jorjena A. Daly
Dale and Roberta Shouse of Jacksonville, Fla., and George and Janet Daly of Waterloo, N.Y., are announcing the engagement of their daughter, Jorjena Ann Daly, to Dr. Brett Adam Barringer, both of Anchorage, Alaska. Parents of the future groom are Elizabeth Barringer of Lisbon and Gary L. Barringer of East Liverpool.
Plans are being made for an April 5, 2014, wedding in Islamorada, Fla.
Miss Daly earned a bachelor's degree from the University of Montana and a master's degree at the University of Idaho. She served as a Peace Corps volunteer in the Philippines and has worked as a public land manager and land use planner for the U.S. Forest Service and Bureau of Land Management across the Northwest and Alaska.
Dr. Barringer earned a bachelor's degree at Ohio State University and doctor of chiropractic degree at New York College of Chiropractic in Seneca Falls, N.Y. He has a private practice, Metro Chiropractic LLC, in Anchorage.