Fitch crushes Harding at Mollenkopf
By Joe Scalzo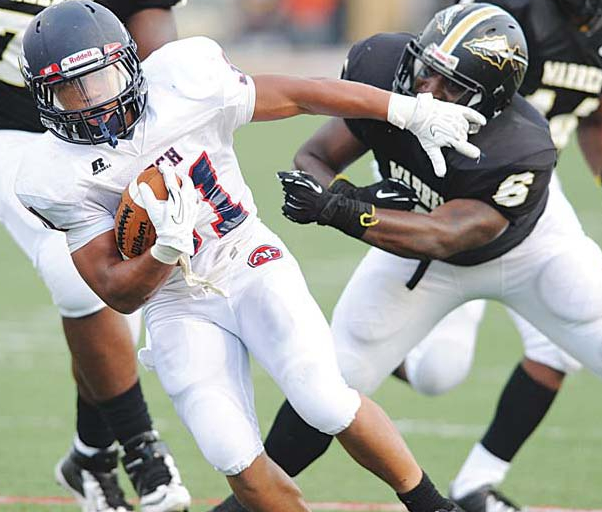 Photo
Austintown Fitch running back Tyler Hewlett (31) escapes the grasp of Warren Harding linebacker John Coleman (6) during the first quarter Friday night at Mollenkopf Stadium in Warren. The Falcons overwhelmed the Raiders, 48-0.
Austintown Fitch vs. Warren Harding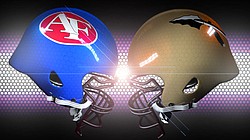 Video
The Fitch Falcons face the Warren Harding Raiders!
Team

| Record | Div. | Conf. |
| --- | --- | --- |
| 6/4 | Div. I | All-American Conference Gold Tier |
Team

| Record | Div. | Conf. |
| --- | --- | --- |
| 2/7 | Div. I | All-American Conference Gold Tier |
YOUNGSTOWN
After Austintown Fitch coach Phil Annarella committed to using a defense built on speed and quickness, he spent the whole preseason telling people the Falcons would look like a junior high team against teams like Warren Harding.
"I mean, did you see how big they were? They're huge!" Annarella said. "But our kids, they're scrappy. They're going to fight you.
"We told them right before the game, 'It's not the size of the dog in the fight, it's the size of the fight in the dog.'"
Or, more accurately, the speed of the bees in the hive.
In one of Week One's biggest stunners (due to the score, if not the result), the Falcons dominated the Raiders 48-0 on Friday at Mollenkopf Stadium, their third-straight opening night win over Harding.
"We came to play football," said Annarella, who led Harding to a Division I state title in 1990. "We knew they were going to be fired up after the last couple years and we said, 'We better be revved, too.' And [we] were."
Fitch senior Gary Gibson (5-foot-7, 172 pounds) recovered two fumbles, including one in the end zone on a botched Harding snap, and also ran for a 4-yard score for Fitch, which recovered four fumbles and had an interception. Fitch held Harding to just 66 yards on 43 plays and four first downs.
"Our coach always says fly to the ball," Gibson said. "He always wants 11 guys on the ball every play and that's what we try to keep in our minds.
"We didn't expect this, not at all. But with the team we have, we knew we were going to come out and win. This [score] just makes it so much better."
Starting QB Gabe Chepke, a senior, ran for two touchdowns and threw for another, a 47-yard strike to a wide open Joey Harrington.
Fitch's other QB, electric junior Antwan Harris, added 128 yards rushing and a TD.
"I know everybody was questioning our quarterback situation as being iffy," Annarella said. "I think our two kids tonight showed it's not iffy."
Junior RB Darrin Hall added 81 yards on the ground as Fitch rolled up 306 yards rushing. Kerrell Johnson had Fitch's interception and Drake Marinelli and Sam Ortz had the other fumble recoveries.
Keemari Murry ran 17 times for 46 yards and John Coleman had an interception for Harding, which was coming off an 8-3 season that saw them earn a Division I playoff berth.
As impressive a win as it was, Annarella started chuckling when asked if he was worried about overconfidence.
"Don't worry, don't worry," he said. "You do this for over 40-some years and you know what's coming next. They'll be talked to about that all weekend and next week. There's no gimmes on our schedule."
Gibson already got that message.
"We beat these guys, it was good and now we just have to forget it," he said. "We've got nine more games left to play."
If the Falcons keep playing like they did Friday night, they'll have a lot more than nine.