US fast-food workers stage largest protests yet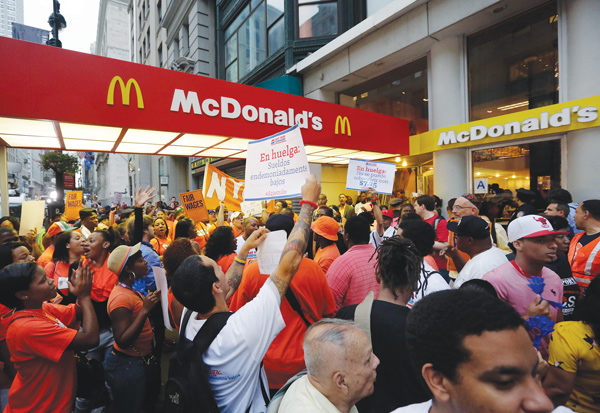 ---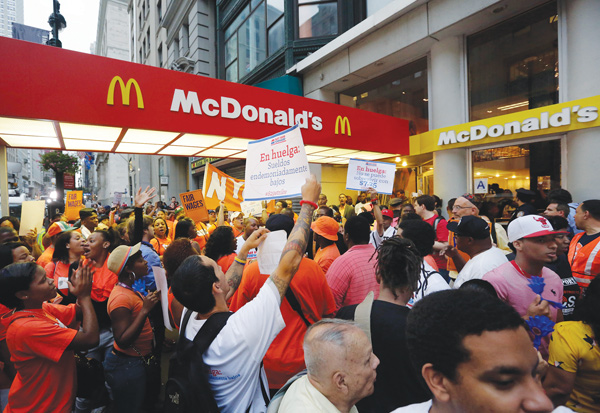 Photo
Protesting fast-food workers demonstrate outside a McDonald's restaurant on New York's Fifth Avenue on Thursday. Thousands of fast-food workers staged walkouts in dozens of cities around the country Thursday, part of a push to get chains such as McDonald's, Taco Bell and Wendy's to pay workers higher wages.
Associated Press
NEW YORK
Fast-food workers and their supporters beat drums, blew whistles and chanted slogans Thursday on picket lines in dozens of U.S. cities, marking the largest protests yet in their quest for higher wages.
The nationwide day of demonstrations came after similar actions organized by unions and community groups over the past several months. Workers are calling for the right to unionize without interference from employers and for pay of $15 an hour. That's more than double the federal minimum wage of $7.25 an hour, or $15,000 a year for full-time employees.
Thursday's walkouts and protests reached about 60 cities, including New York, Chicago and Detroit, organizers said. But the turnout varied significantly. Some targeted restaurants were temporarily unable to do business because they had too few employees, and others seemingly operated normally.
Jobs in low-wage industries have led the economic recovery. Advocates for a higher minimum wage say that makes it crucial that they pay enough for workers who support families.
The restaurant industry says it already operates on thin margins and insists that sharply higher wages would lead to steeper prices for customers and fewer opportunities for job seekers.
The drive for better pay comes as the White House, some members of Congress and economists seek to raise the federal minimum wage. But most proposals are for a more modest increase, with President Barack Obama suggesting $9 an hour.
The Service Employees International Union, which represents more than 2 million workers in health care, janitorial and other industries, has been providing financial support and training for local organizers in the fast-food strikes around the country.
Walkouts also were planned in Hartford, Conn., Los Angeles, Memphis, Tenn., Milwaukee, Seattle, St. Louis and other cities. Organizers said they expected thousands of workers and their allies to turn out, but the number of actual participants was unclear.
In Atlanta, a TV station showed customers and workers in a McDonald's going about their business as protesters read a statement inside the restaurant.
The lack of public awareness illustrates the challenge workers face in building wider support.
More like this from vindy.com