Guzzo's Fruit Stand a staple at Canfield Fair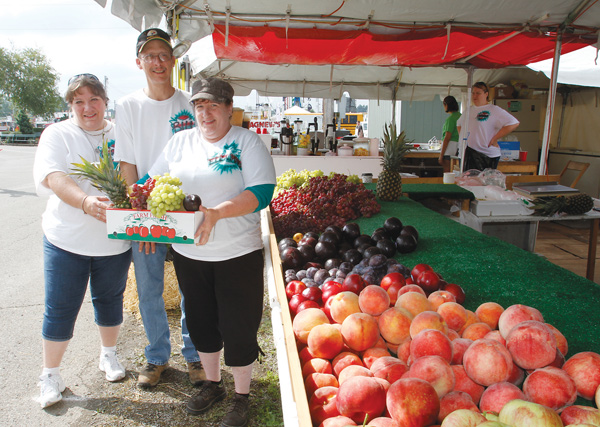 ---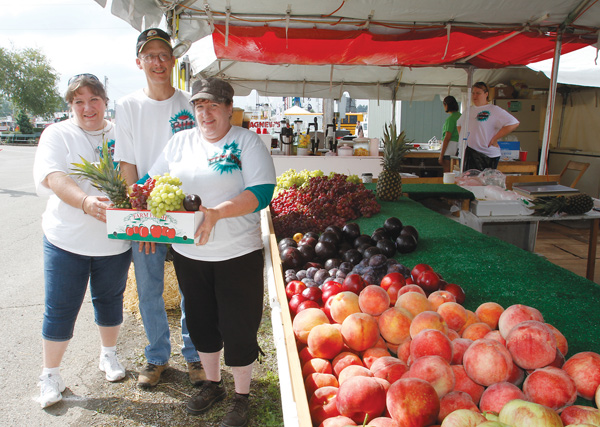 Photo
One of the staples at the Canfield Fair is Guzzo's Fruit Stand on Bishop Street. Showing off some of the produce fairgoers can buy are, from left, Christina Guzzo, Bill Welsh and Ella Maria Guzzo-Welsh.
By Kalea Hall
CANFIELD
Christina Guzzo and her sister Ella Maria Guzzo-Welsh are determined to keep their father's fruit stand open at the Canfield Fair for another 67 years.
"This will never end as long as the Guzzo blood is here," Ella Maria said.
With four generations working to sell grapes, peaches, plums, fruit smoothies, frozen coffee pops, chocolate-covered cheesecake and more, the goal of continuing the family business is promising.
"We do it because we love our dad," Christina said.
The Guzzos believe — and know — Mike Guzzo Sr., founder of the fruit stand, would be proud of what his family has continued.
Mike began selling fruits and vegetables as he grew up in an Italian community in Youngstown, where nearly everyone had an Italian garden.
"They used to call him 'The Pepper King,'" Christina said.
Mike came to the Canfield Fair as a vendor selling local produce when he was 17. With help from his family, including his wife, Ella, the stand stayed open and is still on Bishop Street to this day.
In 1996, the Guzzos received an award from the fair board for being a vendor for 50 years, and in a few years they will have been here for 70 years. Mike Guzzo died in 1997.
The Guzzos continue the tradition of selling local produce at a low cost and rely on farms such as Huffman's Fruit Farm in Salem to supply the stand.
"To this family, local connection is very important," Christina said.
The Guzzos also are known for running Fruitland in Austintown, which Mike ran from 1967-1976. Even though Fruitland closed, the Guzzos have remained a staple at the Canfield Fair.
"I can still feel him here," Christina said. "So that is why I can't stop."
The Guzzos hope to continue their father's fruit-stand legacy and remain one of the healthy food options at the fair.
"This is truly all out of love," Ella Maria said.