Paden's passing powers Niles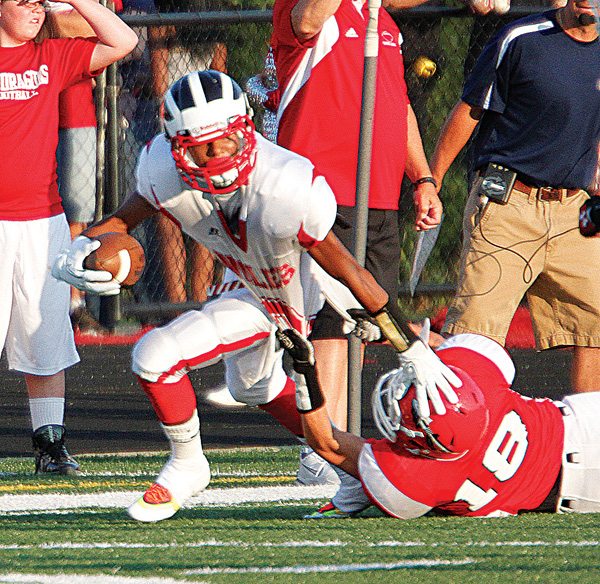 Photo
Niles' Marcus Hill (2) is dragged down after a short gain by Girard's Vincent Maderitz during the first quarter Thursday night at Arrowhead Stadium. The Red Dragons won, 38-19.
By TIM CLEVELAND
GIRARD
After an 8-3 record and a return to the postseason in 2012, Niles made wholesale changes to its offense for this season.
The Red Dragons and coach Brian Shaner scrapped their run-oriented attack in favor of putting their fate on the arm of senior quarterback Kyle Paden. After backing up the graduated Stefan Yuhas last year, Paden is now the leader of Niles' offense.
Thursday night at Girard, Paden showed Shaner made a wise decision, completing 26 of 35 passes for 362 yards and a pair of long touchdowns as Niles hammered Girard for the second consecutive year, 38-19.
"There were times we looked really good doing it and times that we just did not look good doing it," Shaner said. "We've got to get sharper if that's going to be our kind of football. But you know what, for our first game, Girard's a tough backyard rivalry … we're going to take the win and get back to Niles happy with it."
Paden tossed a 72-yard bomb to a wide-open Justin Lopes for a 14-0 lead late in the first quarter, then added a 50-yarder to Chris Parry to extend the lead to 21-0 with 6:05 left in the first half.
"Ever since preseason, our main attribute is throwing the ball," Paden said. "We have a bunch of weapons outside and I feel like they're always open. I've just got to find them."
"He's a good quarterback," Shaner said. "He's one that we really in the area don't know about yet. The sky's the limit for him; a lot of potential."
John Cicero contributed 76 yards and scored twice for Niles (1-0). He broke off a 38-yard scoring run for the game's first score and a 3-yarder early in the third quarter to make it 28-0.
The Red Dragons' defense put big hits early and often on Girard quarterback Nick Cardiero. Linebacker Corey Hayes sacked Cordiero twice, both big shots. Cordiero finished 14 of 33 for 180 yards and two interceptions. The second pick was returned 63 yards for a touchdown by Parry.
"Defensively, we played very aggressively," Shaner said. "We did not tackle well, though. I just don't understand it. We've got to get better at that. This is going to be a great game to learn from. We cannot stay at this level or we're not going to win a lot of football games."
The main bright spot for the Indians' offense was running back James Cupan. The senior rushed for 23 times for 135 yards and scored two fourth-quarter touchdowns.