Wolfe powers Poland over Marlington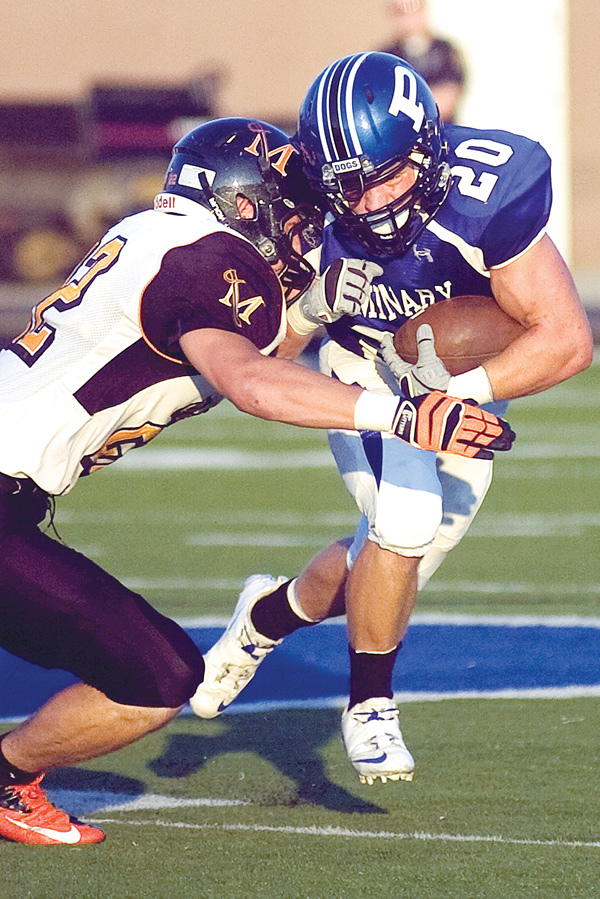 Photo
Poland running back Ross Gould carries the ball Thursday as a Marlington defender tries to bring him down on Thursday night at Dave Pavlansky Field. The Bulldogs won, 35-14.
By Brandon Judeh
Poland
Poland's Jacob Wolfe is known as one of the area's best basketball players with his 6-foot-5 frame and athleticism.
Thursday night he proved he's also a good football player.
The senior led the Bulldogs to an opening night 35-14 victory over Marlington.
Wolfe threw for 147 yards and two touchdowns to start his senior campaign off on the right foot.
"It really all started up front with our offensive line, they gave me so much time to throw and I was able to find Art (Duran) as well as my other receivers," Wolfe said.
His favorite target was fellow senior Duran as he hauled in three catches for 48 yards and two touchdowns.
"We have been throwing the ball around for so many years and we are always on the same page," Duran said. "We just click very well."
Wolfe, who has been playing football with Duran since junior high, agrees.
"We are very familiar with each other from all the years we have played together, plus Art runs the best routes I have ever seen."
As easy as this win was, things got off to a rocky start moments into the game for the Bulldogs (1-0) when a Ross Gould fumble gave Marlington the ball and the momentum.
Ironically, that fumble ended up being a blessing in disguise for Poland as it fueled Gould to 142-yards and a touchdown on the ground.
"I was so mad at myself for coughing the ball up at the beginning of the game, especially because this was our first drive on opening night of my senior year," Gould said. "It feels great that my teammates and I were able to redeem ourselves and go out and get the victory."
Shortly after the turnover, Poland's Tyler Evan changed the Bulldogs' fortunes when he recovered a Steven Masters fumble to give the ball back to the offense.
Finding themselves down 7-0 Wolfe found Duran on a beautiful 30-yard pass over the middle to tie the game, and it wasn't their last effort.
Late in the second quarter with the Bulldogs clinging to a 14-7 lead, Wolfe again looked to Duran, this time on a perfectly-thrown 10-yard fade pattern in the corner of the end zone.
For Poland, Austin Wilson scored a 12-yard touchdown while senior offensive guard Mike Audi recovered a botched snap in the end zone for a score.