Special guests help cut Canfield Fair ribbon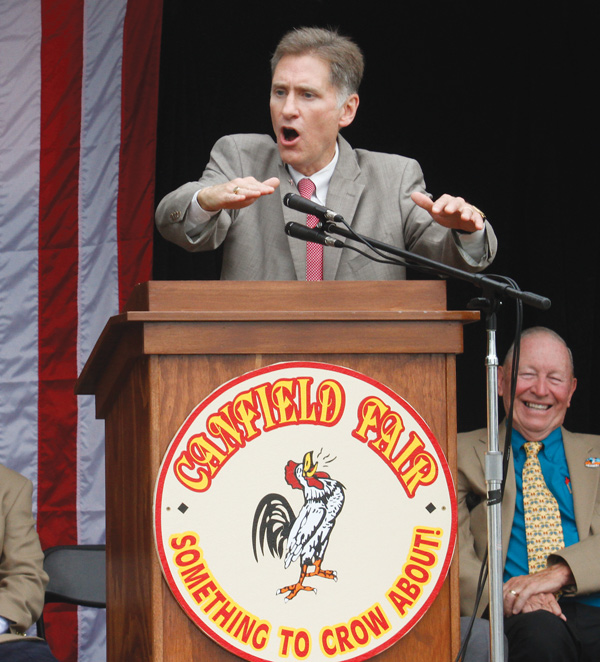 ---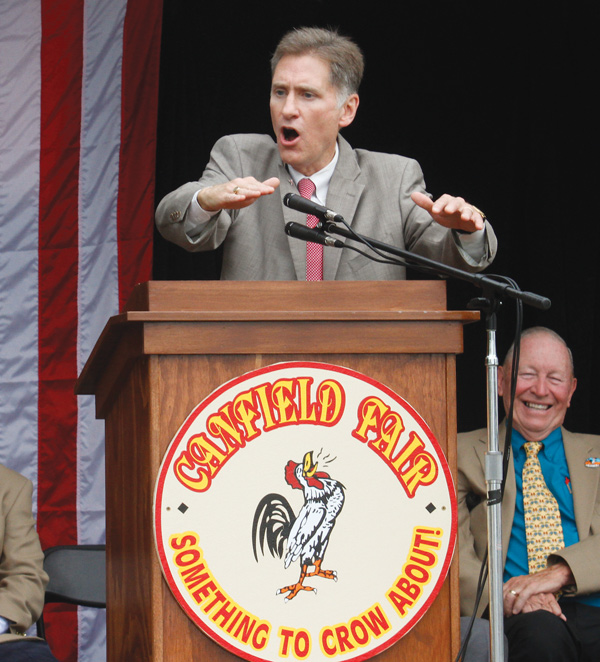 Photo
Dr. Randy Dunn, president of Youngstown State University, talks about his days of attending county fairs similar to the Canfield Fair.
See also: • Guzzo's fruit stand staple of fair
• A young woman's dream comes true: She's the 4-H queen
• FAIR DIGEST || Portman at fair Monday
By Kalea Hall
CANFIELD
Canfield Fair Board members, with special guests Youngstown State University President Randy Dunn and his wife, Ronda, officially opened the 167th Canfield Fair on Thursday morning.
At the ceremony, Charles Booth, board president, promised fair-goers the board would continue to celebrate agriculture and its importance.
"Our fair is steeped in tradition," Booth said.
That tradition of celebrating agriculture was highlighted at the opening ceremony with an award given to the Anderson Family Farm for being in business for more than 200 years. Janelle Mead, deputy director of the Ohio Department of Agriculture, came to the fair to present the Anderson family with the award recognizing their bicentennial farm.
"We are very proud of these families," Mead said about multi-generational farmers.
The Anderson Family Farm began when Abraham Kline purchased 260 acres in Canfield in 1809. The farm produced grains, but grew to have cattle, hogs, chickens and dairy cows.
Raymond and Nelda Anderson took over the farm in 1957 and helped it grow. Raymond was the sixth generation to inherit the farm. Today, Raymond and Nelda's son, Wayne, farms the 200 acres of corn and soybean fields.
"Operating the farm is just something I take a lot of pride in," Wayne said.
Wayne has operated the farm since 1985. The seventh-generation farmer said he was very proud to accept the award with his mother Nelda from the Ohio Department of Agriculture and an award recognizing the farm from state Sen. Joe Schiavoni of Boardman, D-33rd.
Also at the ceremony, Dunn spoke on his love of fairs becaise he grew up on a farm.
"I am a big fan of fairs," Dunn said at the ceremony. "One of the things you think of is family."
Dunn also commended the Anderson family and for being a multi-generational farm, which is very "rare" to see today, and he believes it is important to continue the fair's tradition of supporting agriculture.
"We cannot lose the ties to that tradition," Dunn said.