Businesses explore library databases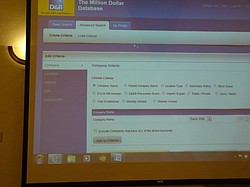 Photo
Neighbors | Elise McKeown Skolnick.The D&B Million Dollar Database was one of the databases explained at a workshop at the Austintown library Aug. 19.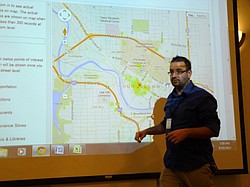 Photo
Neighbors | Elise McKeown Skolnick.Stuart Gibbs led a workshop on two of the business databases available for business and investment research at the library Aug. 19.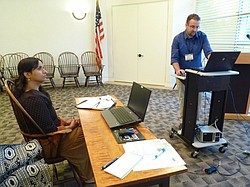 Photo
Neighbors | Elise McKeown Skolnick.Varada Bhide (left), Youngstown YWCA communications coordinator, said the worshop on databases offered at the Austintown library was useful.
By ELISE McKEOWN SKOLNICK
Many databases are available free-of-charge to patrons of the Public Library of Youngstown and Mahoning County. Stuart Gibbs, a librarian in the business and investment center at the library, offered a workshop at the Austintown library Aug. 19 that explored two of them.
The workshop, Gibbs said, shows people who want to start a business what the library has to offer them, and established businesses can learn ways to expand and grow their with the resources the library offers.
Gibbs took participants through the various aspects of the ReferenceUSA and D&B Million Dollar databases. The databases can be used for businesses to look for suppliers or competitors, among other things, he said. Library card holders can access them online.
The D&B database allows users to search for businesses in an area. Details, such as industry information, year established, and the names of executives, are available. It's possible to search the database in many ways, such as by women-owned, minority-owned or key word.
Gibbs also explained how to create printable files of information collected. He said D&B is the "go to" database for business information.
USAReference is made up of eight databases. Gibbs discussed four: U.S. businesses, U.S. standard white pages, U.S. consumers/lifestyles and U.S. new movers/homeowners.
Varada Bhide, Youngstown YWCA communications coordinator, found the information useful.
"I think this is very interesting that so much information is at our fingertips and for no cost. It's amazing," Bhide said. "And I think especially for non-profit organizations like mine, it's very important to use such resources and not tap into our limited funding."
Bhide said she can think of many uses for the information, including marketing the organization's leadership conference.