Boak speaks at Rotary meeting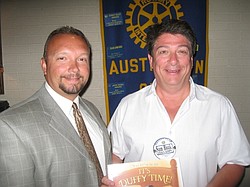 Photo
Neighbors | Submitted .Rotary President Mark Cole presented a book in Sam Boak's honor to be sent to the new Austintown Elementary Library Aug. 12.
The Rotary Club of Austintown hosted a meeting Aug. 12. The speaker for the event was Sam Boak, who was introduced by Mal Culp.
Boak has been in the insulation and roofing business since age 19, and was past president and member of the Rotary Club of Austntown, but has moved his membership to Canfield. He is still a strong supporter of Austintown and its Rotary Club. He is the principal roofing contractor of the new Austintown schools, and several others. Boak has 161 full time employees with benefits and endeavors to keep them working all year around.
He described his main function in the company as cheerleader and firefighter, striving to keep a positive workplace and solve the problems as the rise. Boak mentioned the problems created in the valley by storm chasers who came to the area after the hail storm a few years ago and slapped on cheap materials too quickly, and the problems are coming now to haunt the owners, while the money has already long left the area. Warranties do not exist, so people are paying twice for repair.