Bellamy's TD run seals YSU victory
YSU vs Dayton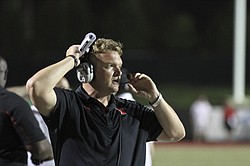 Gallery
By Joe Scalzo
YOUNGSTOWN
The longest run in Adaris Bellamy's career left him trying to catch his breath, while everyone else in Stambaugh Stadium could finally exhale.
Thanks to a game-changing 80-yard run — which followed an even bigger goal line stand by YSU's defense — the Penguins held off Dayton for a 28-10 victory in Thursday's season opener at Stambaugh Stadium.
Bellamy's run came on a simple toss play on third-and-1 at the Penguins' 17. He broke through the right side of the line, hit the sideline and nearly outran Dayton's secondary, getting pulled down at the 3.
Freshman RB Martin Ruiz scored on the following play, giving the Penguins a 28-10 lead with seven minutes left.
"I don't think that play is designed to go 80 yards," Bellamy said, grinning. "I don't think I've ever had a run like that before, but I feel like that run wasn't me. I feel like I just got momentum from everyone on the sideline and that on the field. My blockers, the quarterback.
"I feel like it was just a perfect play."
It was one of the few moments of perfection for the Penguins, who had a sloppy night against a FCS non-scholarship team that came in with a 9-0 edge in the series.
The Penguins (1-0) fumbled five times (losing two) and senior quarterback Kurt Hess threw two interceptions on a forgettable night. After completing just 8 of 15 passes in the first half for 68 yards and an interception, Hess attempted just four passes in the second half, completing one to each team.
"The passing game was really poor," YSU coach Eric Wolford said. "I don't think we did a very good job of protecting our quarterback and I think we had the opportunity to hit some guys and just didn't hit them.
"The next thing you know, we're punting the football on crucial downs after what should have been elementary completions for us."
YSU's running game picked up the slack, with Bellamy carrying 17 times for 203 yards and a TD. It was more than he had during an injury-plagued 2012, when he carried just 30 times for 128 yards.
The Penguins finished with 376 rushing yards.
The game's biggest play came early in the fourth quarter. A Matt Bianco interception gave Dayton a first down at the YSU 12 and two running plays gave the Flyers a first down at 3.
Two run plays moved the ball to the 1, then QB Will Bardo threw incomplete in the end zone on third down. After a timeout, Dayton opted to go for it on fourth down, but YSU got pressure on Bardo and linebacker Ali Cheaib picked him off.
Instead of a 21-17 game, it was still 21-10.
"He had a little pressure on him," Cheaib said. "The D-line got to the ball fast, so I have to thank them, honestly. They're responsible for him throwing the ball that short."
Added Wolford, "That was probably the turning point of the game."
That play highlighted a strong night for YSU's defense, which had two interceptions and held the Flyers to just 3.7 yards per play.
But if YSU is going to make a run at the FCS playoffs, it will need much more from its offense than what it got Thursday night.
"It was a sloppy game on our part," Wolford said. "But we'll take it."