Workout classmates celebrate Alfreda Robinson's 100th birthday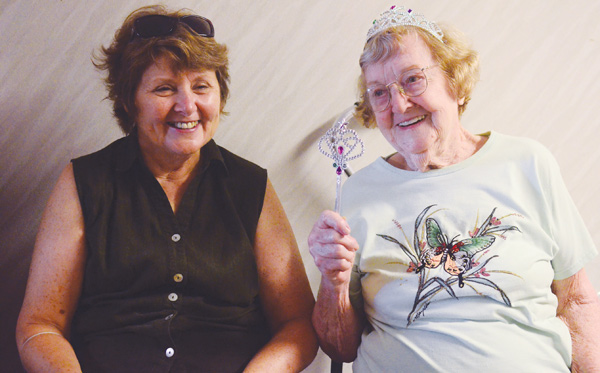 ---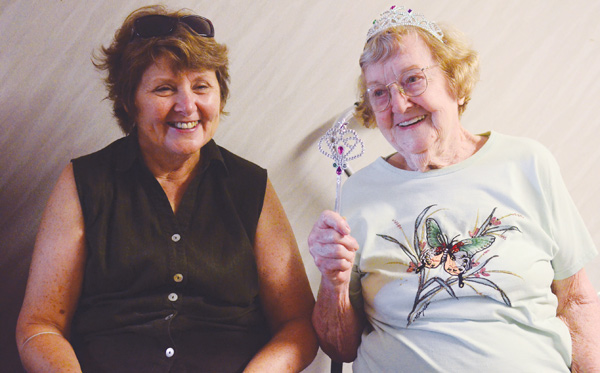 Photo
Alfreda Robinson, right, shares a laugh with her daughter, Carolyn Lorent, during Robinson's 100th birthday party Thursday at Fit Family in Austintown. The Niles native, who now lives in Lake Milton with her daughter, works out at the gym twice weekly.
By Denise Dick
Austintown
Alfreda Robinson takes her place in class at Fit Family faithfully twice weekly, ready to break a sweat.
She's the only student that instructor Pam Krantz allows to sit while curling and pressing dumbbells with the rest of the class.
Robinson turns 100 today.
Her classmates marked the occasion Thursday, celebrating after their Cardio Fun class with cake, punch, cards, balloons, a gift basket and a serenade from Duesey the dog (owned by gym member Mary Zalac).
Robinson, a Niles native, started coming to Fit Family on North Canfield-Niles Road about two years ago when she moved in with her daughter, Carolyn Lorent, who lives in Lake Milton.
"I really enjoy it," she said. "I like the exercise, and the people are so much fun and so nice."
Lorent said it didn't take much convincing to get her mother to accompany her to the gym.
"Once she found out I wasn't paying for it, she was fine," Lorent said. "She didn't want me to pay for it."
"I would pay for it myself, but I didn't want her to pay for it," Robinson said.
Fit Family is a Silver Sneakers facility meaning that membership is available free to people who are eligible for Medicare and to group retirees.
Krantz crowned Robinson "Queen for the Day" by placing a plastic crown on her head, a scepter in her hand and a kiss on her cheek.
"She does everything I do," she said of her student. "I tell the others, 'You can't stop. Alfreda isn't stopping. You can't stop.' She really is an inspiration."
Doris Bullock, co-owner of Fit Family, said Robinson is the gym's oldest member, but longevity runs in Bullock's family too. Her grandmother, Fancy Monroe, a resident of Humility House in Austintown, marked her 104th birthday earlier this month. To keep Grandma active, Bullock works out with her when she visits.
Regular workouts and a healthy lifestyle are paying off for other Fit Family members too. One is 98 and there are 19 people between the ages of 80 and 89 who come to the gym.