The Robinson Family Singers are a fair staple
---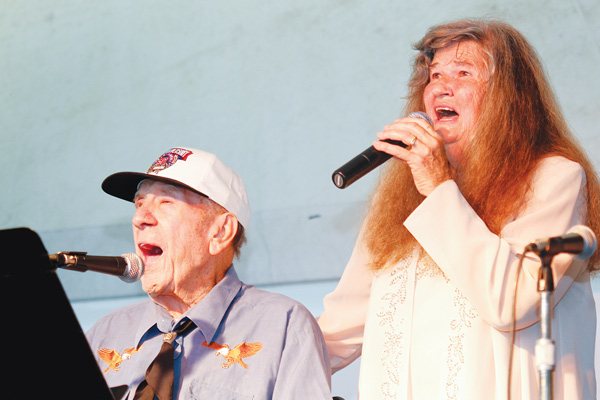 Photo
Jackie and Mary Ruth Robinson sing in the Robinson Family Band at the Canfield Fair, which began Wednesday. The Robinson family has been performing at the fair for 22 years.
By EMMALEE C. TORISK
CANFIELD
For the 22nd STRAIGHT year, the Robinson Family Singers once again set up the 12-by-40-foot stage, complete with lights and sound, that folds out of their tractor-trailer near Gate 8 of the Canfield Fairgrounds.
In the almost 40 years the Robinsons have been touring together, albeit with a few lineup changes, they've performed their mix of country, bluegrass and gospel music at fairs, festivals and rodeos across the United States, Canada and Mexico.
But to the family act, performing at the Canfield Fair — their longest-running fair show — has become more like coming home to family.
"We've seen their children grow up, or they say, 'I'm coming back to keep up my mother's tradition,'" said Mary Ruth Robinson, the family's matriarch, of the group's devoted audience members, particularly at the Canfield Fair. "We're so unprofessional, but I think that's what they like about us. We are who we are."
The Robinson Family Singers, now based in Kentucky, got their start in upstate New York, back when family patriarch Jackie Robinson was teaching at Syracuse University.
Most weekends, though, dozens of Jackie's students would show up at the family's four-story mansion, instruments in hand, and they — along with the family, which then consisted of Mary Ruth and Jackie, along with children Rachel, Rebekah, Mark, Julia and Susannah — would spend Friday and Saturday nights immersed in song.
Music was never part of the family's plan, but after performing at a number of bluegrass festivals around New York, the family act became pretty well-known — even winning third place at the New York State Fair's talent contest.
That's when the Robinsons finally sold their home, moved into a bus and began touring full time as the Robinson Family Singers.
"Jackie was going to be a professor, and I was going to be a professor's wife," Mary Ruth said. "But I don't ever regret leaving that home."
Today, the Robinson Family Singers still include Mary Ruth, Jackie and Mark, but are joined by Mark's wife, Sharron Robinson, and Mark and Sharron's three children: 9-year-old Andrew, 6-year-old Michael, and 4-year-old Samantha.
"I like how I get to stand in front of the audience and show them how good I am," said Andrew, who plays drums and sings.
About three years ago, too, guitarist Don Watson and drummer Rex Hart joined the group, filling in for others who decided to pursue things off the road, and have become "like family," Mark said.
And though members have come and gone, the family's motto has remained consistent: to connect with the audience in some way, helping them feel even a little bit better about their lives. They even spend time after each show visiting with audience members.
"If you haven't cried, or laughed, or shared some kind of emotional experience, we haven't done our job," Mark said.
Mark added the Canfield Fair has been a true gift. The "people here are just real, family people" who relate to the Robinson Family Singers' message, often coming back to see them year after year, he said.
For example, Terry and Mary Lou Annico of Boardman have attended at least one of the Robinson Family Singers' shows each year for as long as the family has been performing at the fair. They do so simply because they appreciate their music, along with their sense of family.
"They're so talented," Mary Lou said. "It's one of the traditions we do at the fair every year."
The Robinson Family Singers perform at 2 and 7 p.m. today and Friday; at 2, 4:30, and 7 p.m. Saturday; and at 2 and 6 p.m. Sunday, near Gate 8, located in the southwest part of the Canfield Fairgrounds.
For information, as well as other upcoming shows, visit www.therobinsonfamily.com.