Poland's Reardon named week 1 starter; wollet captain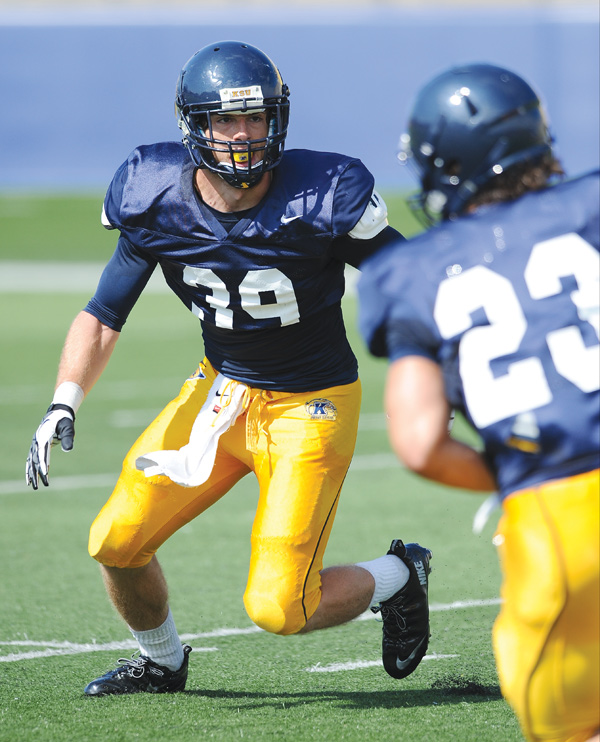 ---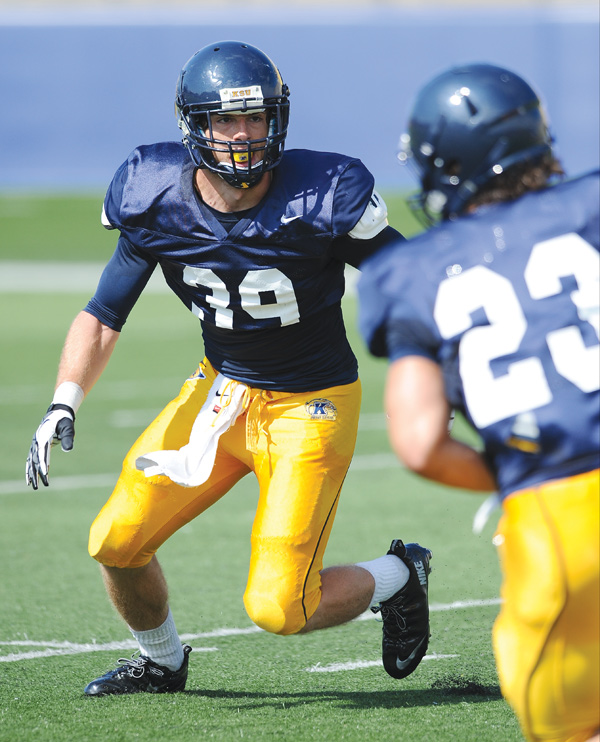 Photo
Kent State DBs Luke Wollet (39) and Jordan Italiano (23) run a play during a recent practice at Dix Stadium. Wollet, a Poland High School graduate, is returning for is senior year as a team leader and captain of the defense, on which Italiano, a sophomore and Canfield graduate, will start at the star position. Colin Reardon, another Poland grad, earned the nod as starting quarterback as a red-shirt freshman.
Poland's Reardon named week 1 starter; wollet captain
By Kevin Connelly
The Kent State football team will take the field at Dix Stadium tonight looking to follow up on their best season in school history with a championship.
The Golden Flashes will have a Mahoning Valley feel as they feature two starters from Poland and one from Canfield.
Luke Wollet, a 2009 graduate of Poland, returns for his senior season as a team leader and captain of the defense. He's made 27 career starts at strong safety for the Golden Flashes and will help bring stability under first-year head coach Paul Haynes.
Joining him on defense is Canfield graduate Jordan Italiano, who will start at the star position — a mix of linebacker and safety — as a sophomore.
Perhaps the most interesting story line is surrounding red-shirt freshman quarterback and Poland graduate Colin Reardon, who's been named starter for tonight's game against Liberty.
Jumping from the All-American Conference to the Mid-American Conference will be a challenge for Reardon. The good news for him is the path has already been taken by Wollet.
"Being older than him, I've got to see him grow up since basically a sophomore in high school and I'm really proud of the man he's becoming," Wollet said. "He's going to do a great job with this offense, I have a ton of faith in him."
Wollet called Reardon wise beyond his years and said he's done a great job commanding the offense so far.
The KSU coaching staff has made it clear that the quarterback job is a week-to-week battle and just because Reardon will be under center against Liberty, doesn't mean he's a lock for their first conference test in Week 2 at Bowling Green.
Kent State finished the 2012 regular season with a record of 11-1 and a double-overtime loss to Northern Illinois in the MAC championship game. That was followed by a four-point defeat to Arkansas State in the GoDaddy.com Bowl.
The Golden Flashes want to prove last season wasn't a fluke. To do so, they must flourish under the defensive-minded Haynes, who replaced Darrell Hazell after he left for the Purdue head coaching job.
"Coach Haynes has a great pedigree, especially with safeties," Wollet said. "Our main goal is to win a MAC championship, and you know we didn't achieve our goal last year. We had a great season, but it wasn't our goal.
"We've worked really hard this offseason and it just comes down to our performance on Saturdays."
Whether his performance is on display Thursday, Friday, or Saturday, Wollet hasn't forgotten where his love of the game first started.
"I love being from the [Youngstown] area and I wear it with great pride," the former Bulldog said. "One of the main reasons of how I try and represent myself is for the people back home.
"I want to give them a good name, as well as myself, and it's been a real honor to do that."
As for if he thinks he can keep playing on Sundays, Wollet said that's something he hasn't thought a whole lot about.
"I've been very blessed throughout my life to have had great people around me who only want to see the best in me," Wollet said. "I've taken advice from people a lot wiser than myself and I've had a ton of help along the way."