Relative impersonated YSU football player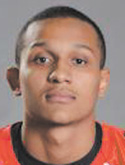 ---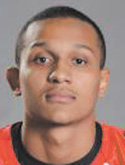 Photo
Staff report
WARREN
Charges against Youngstown State University football player Dale Peterman were dropped Wednesday in Warren Municipal Court after officials determined that a male relative of Peterman's impersonated him at a traffic stop.
Peterman had been charged with marijuana possession, driving under suspension, speeding and a seatbelt violation May 12, 2012, after a traffic stop on East Market Street in Warren.
Peterman didn't appear in court for a hearing on the matter in July 2012, and an arrest warrant was issued.
When Peterman appeared in court Wednesday, Lt. Brian Holt, commander of the Ohio State Highway Patrol's Southington Post, said the man he pulled over in 2012 was not Dale Peterman.
The man looked a lot like Peterman but was not him, Holt said.
He was instead a relative of Peterman's, and charges will be filed later against that person, Holt said.
Peterman appeared Wednesday in Girard Municipal Court, on charges from Dec. 28, 2012, on Belmont Avenue in Liberty of driving under suspension, failing to display proper auto-registration information and not using a proper child restraint.
Peterman failed to appear for court on those charges, and a warrant was issued for his arrest on those in February. He was arrested on the warrants two weeks ago, and he was suspended from the football team.
Judge Jeff Adler of Girard Municipal Court ruled that a determination of guilt or innocence will be held in abeyance for Peterman pending completion of the court's Suspended License Intervention Program, which helps someone with a suspended license take the steps necessary to get the license reinstated.
YSU sports information director Trevor Parks said the team is aware of Peterman's situation but declined further comment.
"As of right now, we're just getting ready for Dayton," Parks said.
YSU plays Dayton in its home opener tonight at Stambaugh Stadium. Peterman, who was suspended indefinitely Aug. 15, was not expected to play in YSU's first two games due to a knee injury.
Peterman did not respond to an interview request, although he did email Vindicator sports writer Joe Scalzo early Wednesday, writing, that a family member "... used my name when he got arrested and never went to court, all charges against me will be dropped."