Published: Wed, August 28, 2013 @ 10:00 a.m.
VTR - Connie Hathorn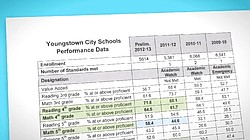 Video Set
Vindy Talk Radio is back on the airwaves today from 8 to noon joined by Louie Free.
@ 10, Youngstown City Schools superintendent Connie Hathorn
Video coverage includes:
@ 2013 School Report Card.
@ Illustrates a baseball analogy to explain how teachers deal with under-prepared students.
@ The issues facing both teachers and students when dealing with broken homes and families.
@ One of his key initiatives to improve the local schools by providing better training for principles.