YSU looks for first win against Dayton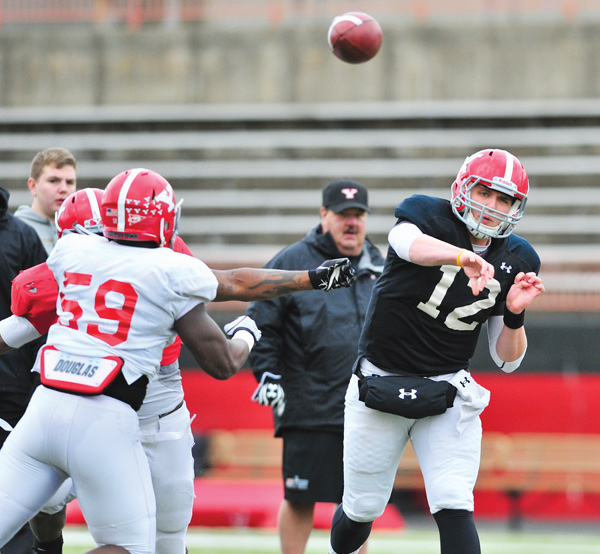 ---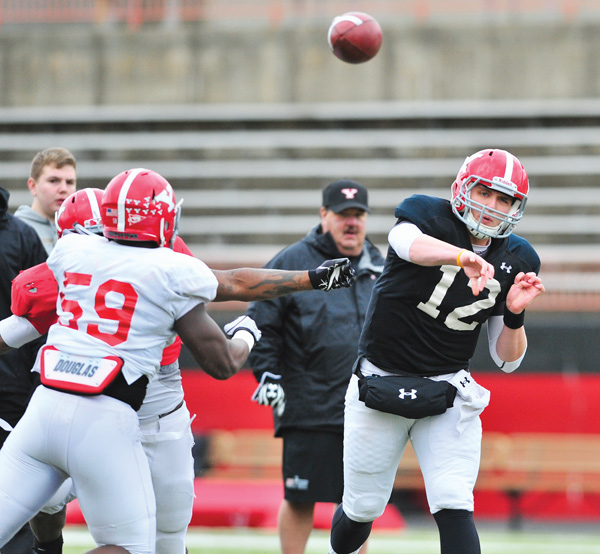 Photo
Youngstown State quarterback Kurt Hess, a Dayton native, will play his hometown team when the Penguins play host to the Flyers in Thursday's season opener at Stambaugh Stadium.
By Joe Scalzo
YOUNGSTOWN
Saying Dayton has a 9-0 record against Youngstown State's football team is a little like saying Jackson-Milton's football team is unbeaten against Cardinal Mooney.
(That's true, by the way. The Bluejays won 6-0 in 1957 — Mooney's second season of football.)
The Penguins haven't played the Flyers since 1977 — back when both schools competed in Division II — but YSU coach Eric Wolford said he's heard from plenty of football alumni who haven't forgotten.
"Every game is important," Wolford said. "But this one really in particular is important to some of the people who have come before us, which obviously is important to our program."
Still, some games are more important than others and Thursday's opener ranks on the low end of YSU's schedule. Like Morehead State (which YSU plays in Week 2), the Flyers are a non-scholarship FCS team, whereas YSU uses the FCS maximum of 63 scholarships.
To add some luster to the matchup, YSU opted to play under the lights and away from the glare of Ohio State's Saturday season opener.
It's the Penguins' first opener at Stambaugh since 2006, which was the last year YSU did not open with an FBS opponent. (The Penguins played Penn State in Week 3 that season. They will meet Michigan State in Week 3 this season.)
"It's a little bit different," senior quarterback Kurt Hess said. "I like it. Any time I get a chance to play in Stambaugh, it's going to be great. Opening up here is going to be something special this year and going out our senior year, I'm glad that we get this opportunity to show off for the fans right away.
"The last couple years they've had to wait until Week 2 to come see us play but it's Week 1, we're right off the bang, we're going."
Youngstown State has not played on a Thursday night since 2005, but Hess played Thursday games during his junior and senior years at Dayton Chaminade-Julienne. Hess normally has two Thursday classes but because football meetings begin at 10 a.m. that day, players on YSU's dress list do not have to go to class.
"Maybe the hardest thing will be going to class on Friday, waking up sore," said Hess, whose first Friday class begins at 8 a.m. "It's definitely something new, but we're kind of sick of waiting, so let's just play."
Dayton went 6-5 last season, winning five of its last six games. The Flyers return 14 starters, including eight on defense. They run a spread offense, with senior quarterback Will Bardo a threat to run (405 yards last season) or throw (1,687 yards, eight TDs, nine interceptions). Defensively, they run a four-man front and are very disciplined, Hess said.
"I think it's just one of those things that if we stay to our Ps and Qs and stay to how we can execute, we can be very effective," Hess said.
Hess grew up near Dayton's campus and said he'll have a big contingent of hometown fans at Thursday's game.
"It's something that I'll be able to tell my kids, 'A long time ago I chose this school and we ended up playing where I was from,'" Hess said. "It's going to be a nice environment. Down in Dayton, you don't hear much about Youngstown. You hear about OSU [Ohio State], you hear about UC [Cincinnati], but it's cool to share my YSU experience with some of those people."