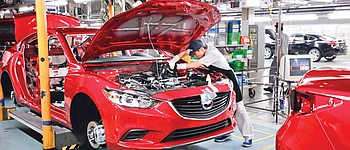 Mazda | A closer look
Published: 8/28/13 @ 12:00
Carmaker that could: Japanese carmaker Mazda says it came up with innovations in nearly every step of auto manufacturing for an assembly line that rolls off vehicles at a rate of one every 54 seconds.
Show-and-tell: Mazda showed off its revamped Hofu plant in southwestern Japan on Tuesday, underscoring how it adapted after the demise of its longtime partnership with Ford Motor Co. in 2010. The plant produced 350,000 vehicles last year, down from its 2007 peak at above 500,000. It expects to build about 400,000 this year.
The key: Mazda uses a common platform, the main structure on which a car is built, and common parts as early as the development and design stage.
Source: Associated Press
Don't Miss a Story
Sign up for our newsletter to receive daily news directly in your inbox.