Bernard-Antal vows will be exchanged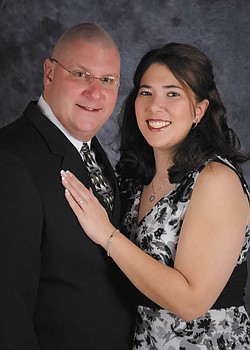 Photo
Kevin Antal and Kathryn Bernard
Joseph Craig and Carole Bernard, both of Canfield, and Jerry and Debbie Antal of Youngstown are announcing the engagement of their children, Kathryn Elizabeth Bernard and Kevin Scott Antal, both of Boardman.
The couple will exchange vows at 2 p.m. Nov. 16 at St. Dominic Church in Youngstown. An evening reception will follow at St. Mary Assumption Social Center, also in Youngstown. Invitations will be extended for both.
The bride-elect earned bachelor's degrees in painting and art education from Youngstown State University. She is an art teacher at Canfield High School.
The future groom studied business at YSU. He is a detailer/estimator for Builders' Hardware and Specialty Co. Inc. in Austintown.