Phantoms' Padulo to skate with Sharks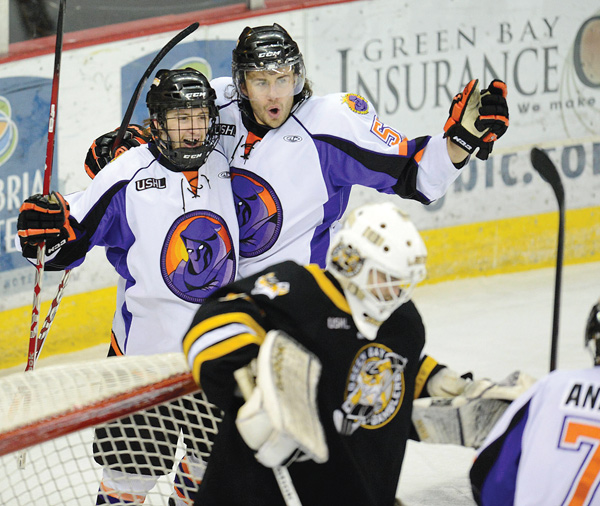 ---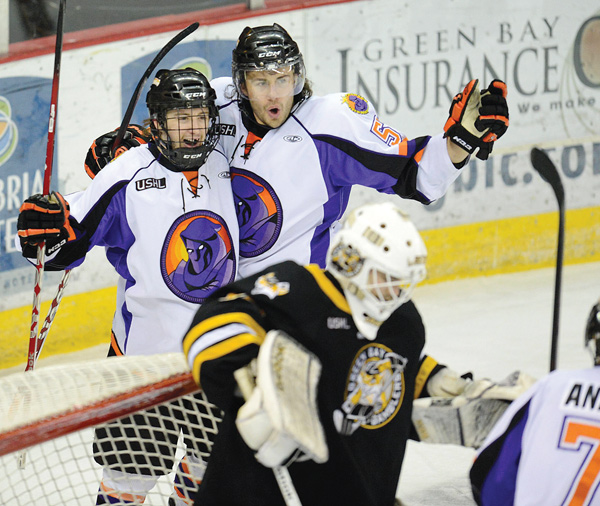 Photo
Youngstown Phantoms forward John Padulo (57), middle, and a teammates celebrate a first-period goal against the Green Bay Gamblers during a USHL playoff game. Padulo has been invited to the San Jose Sharks' rookie training camp.
Youngstown Phantoms' Padulo invited to San Jose's rookie training camp
Staff report
YOUNGSTOWN
Former Phantoms forward John Padulo has received an invitation to the San Jose Sharks rookie training camp and will be joining some of their top prospects at the Young Stars Classic preseason tournament in Vancouver.
Last season, the 5-foot-11, 185-pound winger played his way onto the Phantoms' top line, providing a much-needed edgy, physical presence along with the speed and offensive awareness to complement the high-flying duo of Kyle Connor and Austin Cangelosi.
Padulo posted career-highs in goals (16), assists (32), points (48) and penalty minutes (191) in 57 games for the Phantoms.
He was one of just four USHL players to register 45-plus points and 100-plus penalty minutes, and his hard-nosed, aggressive game combined with blossoming offensive numbers began attracting attention from NHL scouts, San Jose in particular.
"If he can find a way to play the game every day the way he was for us in the playoffs last year, there's no doubt he's ready for the next level," Phantoms head coach Anthony Noreen said. "We felt he was the most impactful player we saw in the entire USHL playoffs.
"We fully expect him to do that and we fully believe in him to do that. Now it's just up to John to prove that he can do it."
At age 16, Padulo began his junior career with the Oshawa Generals of the Ontario Hockey League.
He spent three seasons in the OHL, Canada's top junior league then was released by the Barrie Colts.
He spent one season with the Muskegon Lumberjacks, then became a Phantom.
"Being cut from the OHL was pretty heart-breaking," said Padulo, who is from Rochester, N.Y. "I gave up my college eligibility — I gave up a lot of things — to go to that league, but I didn't come to the USHL with a mindset thinking my hockey career was over. I came on a mission."
Padulo was one of very few bright spots in Muskegon's disappointing 2011-12 season, posting 33 points and excelling in an agitator role with 107 penalty minutes.
"When I first went to the OHL when I was 16, I think I was very raw as a player," Padulo said. "I was more of a physical presence and a grinder.
"The offensive side was here and there, but it wasn't consistent enough. That's kind of been the knock on my career, but every year at junior I steadily grew my offensive side and last year with Youngstown I kind of had a coming out party."
During the Phantoms' playoff run last spring, Padulo led the team and finished tied for third overall in postseason scoring with six goals, including a pair of game-winners.
The gritty winger swung the momentum in Youngstown's opening round series vs. Green Bay Gamblers with his third-period go-ahead goal in Game 2.
The Phantoms went on to win three straight and knock off the defending Clark Cup champions.
In the Eastern Conference Finals, Padulo was instrumental as Youngstown won back-to-back nights at the Covelli Centre to stave off elimination and force the eventual champion Dubuque Fighting Saints to a decisive Game 5.
"I honestly didn't know what to expect coming into the playoffs," Padulo said. "Obviously the intensity of the games is a lot higher than regular season games.
"I didn't know what I was going to do after the season, so I just figured I've got to give it my all. If I gave it my all, it's out of my hands. Only one team has to like me."
A Sharks scout approached Padulo after one Youngstown's the playoff games against Green Bay and following the 2013 NHL Entry Draft, he got a call inviting him to San Jose's rookie camp in September.
"To go to any NHL rookie camp is obviously an honor and it's that much closer to where I want to be," he said. "Obviously I'm still maturing and growing as a player, so wherever I end up playing this fall, I'm not going to be disappointed whether it's in the [East Coast Hockey League] or the [American Hockey League]. I'm going to accept any role and keep working to where I want to be, because obviously my goal is to someday be playing in the NHL."