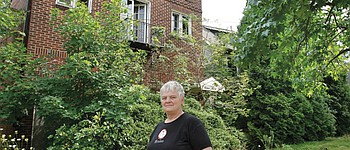 A mistake by Youngstown led to confusion over the demolition of a North Side house
'Clerical error' leads to confusion over demolition of North Side houses
Published: 8/27/13 @ 12:05
YOUNGSTOWN
A "clerical error" had city officials believing the Mahoning County Land Bank was going to demolish a dilapidated and long-vacant house on Wick Avenue.
If not for inquiries from The Vindicator about 1321 Wick Ave. — as well as 1319 Wick Ave., the vacant house next door — the city wouldn't have realized the mistake until the land bank filed a report on its demolition efforts in Youngstown, said DeMaine Kitchen, the mayor's chief of staff/secretary and the city's point man on demolition.
That report's targeted date is Nov. 30, according to Roger G. Smith, the land bank's director of planning, acquisition and disposition.
"We would have caught it later rather than sooner," Kitchen said about eventually finding out the Wick Avenue house wasn't demolished.
Instead, "we're going to look to see if we can get it down and rush it through," he said. "Now that you have made us aware of this, we'll proceed with" demolition.
Jan Pentz, who has lived across the street from both houses on the city's North Side for about six years, contacted the newspaper Monday.
Pentz, a Youngstown city schools history teacher, said she has been asking city officials for a few years to take care of the two houses — and has been ignored.
She said she was shocked when she saw 1321 Wick Ave. listed as "demolition complete" on the city's website because the brick house — largely obscured by overgrown grass, trees and shrubs with a missing front door, numerous broken windows and set on fire three times — is still standing.
"We've tried for six years to get these two houses torn down, and we get the runaround," Pentz said.
The condition of 1319 Wick Ave., a wood-framed house, may be in worse shape than the structure next door. Numerous window frames and carpet pieces fill what's left of its front porch and, like 1321, it has no front door, numerous windows are broken or missing, and greenery has grown so high it's difficult to see the house while standing in front of it.
But unlike 1321, it's not on the city's demolition list.
"It's still standing like a number of vacant properties," Kitchen said. "There are thousands of structures that need to be demolished. It's not on the list, but we have a file on it, and it will eventually come down."
When asked if he's seen either house, Kitchen said he has seen pictures.
"To be honest, once I have seen a few, I've seen them all," he said.
Both houses could have been saved years ago, but the city did nothing to stop their deterioration, Pentz said.
When told of the listing on the city's website of 1321 as "demolition complete," Kitchen initially said it was being handled by the land bank and should have had a status of "canceled" and in process of being demolished by another entity.
Smith and Debora Flora, the land bank's executive director, said their agency had nothing to do with the demolition of any houses on Wick Avenue.
The Vindicator relayed that information to Kitchen, who checked and later confirmed they were correct.
The city had a title search on 1321 on June 8, 2011, and had an estimate on asbestos abatement done last summer. The first estimate was $25,100, but a different company later provided an estimate of $16,740.
Sometime after September 2012, the abatement work was to begin, but it never did.
Because of the expense, the city opted to spend federal Community Development Block Grant money on the abatement, but a clerk mistakenly put it in the land-bank file, said Jean Schaefer, the demolition department's rehab assistant.
Don't Miss a Story
Sign up for our newsletter to receive daily news directly in your inbox.