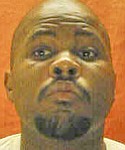 Court orders new trial for man convicted of murdering baby
Appellate court: Right to open trial was violated
Published: 8/27/13 @ 12:05
By Joe Gorman
Youngstown
The U.S. Court of Appeals for the Sixth Circuit in Cincinnati has ordered a new trial for a man sentenced to death for killing a baby in 2003 in the Lincoln Knolls area of the East Side.
The court ruled 2-1 in an opinion released Monday that John Drummond, 36, who also is on trial in Ashtabula County Common Pleas Court for a 1997 murder, was denied a fair trial in February 2004 because former Judge Maureen Cronin of the Mahoning County Court of Common Pleas closed the courtroom for part of the trial.
That violated Drummond's Sixth Amendment rights under the Constitution to have an open trial, the circuit court said.
Drummond was convicted by a jury and sentenced to death for the murder of Jiyen Dent, 3 months, who was killed inside the Rutledge Drive home of his parents March 24, 2003, as they were unpacking boxes because they had recently moved there. The baby was hit with an AK-47 round in the head while he was in a swing and killed instantly.
Prosecutors at trial said Drummond, a member of an East Side gang, thought the baby's father was responsible for the death of one of his friends in 1998.
At two points during the trial, Judge Cronin closed the courtroom because she said some of the jurors and witnesses felt threatened by some of the spectators in the courtroom.
Media members were allowed in to watch and record the proceedings, but the courtroom was cleared of all spectators, including family members. At the time, Drummond's lawyer, James Gentile, objected, saying that Drummond was entitled to a public trial under the Constitution.
In 2011, Judge Sara Lioi of the U.S. Northern District Court of Ohio voided Drummond's conviction and death sentence because of the same issue. The state attorney general's office appealed to the Sixth Circuit in Cincinnati and it ordered a new trial. That order was stayed while the attorney general's office appealed.
A message was left asking if the attorney general's office plans to appeal the Sixth Circuit's ruling. A spokeswoman said in an email that all options are being explored, but no decision has been made at this time.
Drummond was indicted in Ashtabula County in January in the death of a man in 1997 over missing money. His trial began last week.
Don't Miss a Story
Sign up for our newsletter to receive daily news directly in your inbox.