Standohars part of Girard's lengthy streak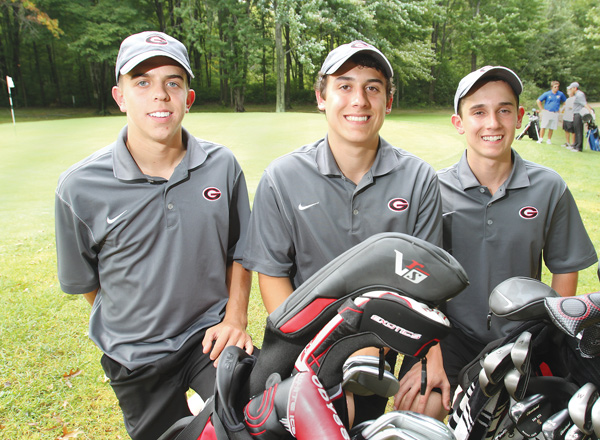 ---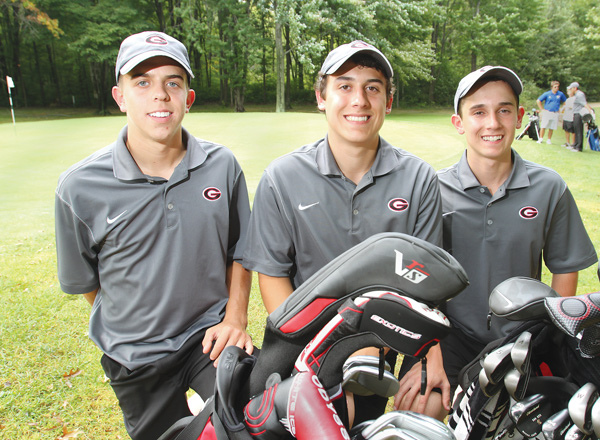 Photo
Three members of the Standohar family play on the Girard High golf team. From left are senior Jimmy Standohar, senior Evan Standohar and sophomore Mark Standohar. Evan and Mark are brothers and Jimmy is their cousin. Girard is 6-0 this season and has won 30 consecutive dual matches dating back to 2011.
By TIM CLEVELAND
CORTLAND
Over the past four seasons, the Girard boys golf team has been led by Standohars. Seniors Evan and Jimmy were joined last season by Mark, a sophomore.
The trio has helped make the Indians an elite program in the area, but challenges have come at the team again and again. There were two close matches last season against Newton Falls, and Monday at Walnut Run Golf Course, a razor-thin 162-163 victory over Lakeview.
The victory was a milestone triumph for Girard (6-0, 6-0 All-American Conference, National Division), as it was the team's 30th consecutive AAC dual-match win dating back to the 2011 season.
"Any time you talk about Girard golf, that's the names that always come up," Girard coach Josh Marsh said. "As a coach, you're fortunate enough to have golfers that can play that well. When they come out and play, I expect them to be the three best golfers we have regardless of who we're playing. I expect them to shoot in the 30s and they expect to shoot in the 30s."
Evan and Mark are brothers, while Jimmy is their cousin. Evan and Jimmy were asked how it feels to play on the same team with a pair of relatives.
"I find it's more of a comfort zone," Evan said. "Me and Jimmy, we always try to talk to each other, calm each other down. I think it benefits us over a lot of people out here because when you have someone that close to you that can calm you down, I think it can really re-group yourself to have a better hole."
"We're always together; we're practically all brothers," Jimmy added. "We all drive each other. It's not directly, but us all being good players is motivating us to squeak the other one out by one or two strokes. We don't talk it, but it's there."
Mark said since this is his last season to play with his brother and cousin, he wants to take full advantage of what the campaign has to offer.
"I've got to cherish every moment. This is their senior year," he said.
Lakeview coach Steve Woofter was proud of his team's effort but disappointed in the defeat.
"I was hoping we would, but we didn't quite get it this year," he said. "We'll see what happens when we go to their course. I'm just glad we were in the match. It was a good match and everybody played well. I wish we could've got a win."
Evan Standohar was the medalist with a 38, followed by Mark with a 40, Jimmy shot a 41 and Zane Chase added a 43.
Buster Thomas paced a disappointed Lakeview (6-3, 5-2) team with a 39. Dave LeMasters shot a 40 and Nick Durst and Brandon Reed each had a 42 on the front nine of the par-36 Walnut Run course.
The Indians won their last eight dual matches of 2011 before going a perfect 16-0 last season and 6-0 thus far this year. Jimmy Standohar said it's state or bust for Girard in 2013.
"The goal is definitely state," he said. "Last year I think we missed it by three strokes. We didn't play our best. I think if we have our best at districts or even close to it, I think definitely we're one of the best four teams in the state."
More like this from vindy.com
August 27, 2013 12:05 a.m.