Weeden: No reason to panic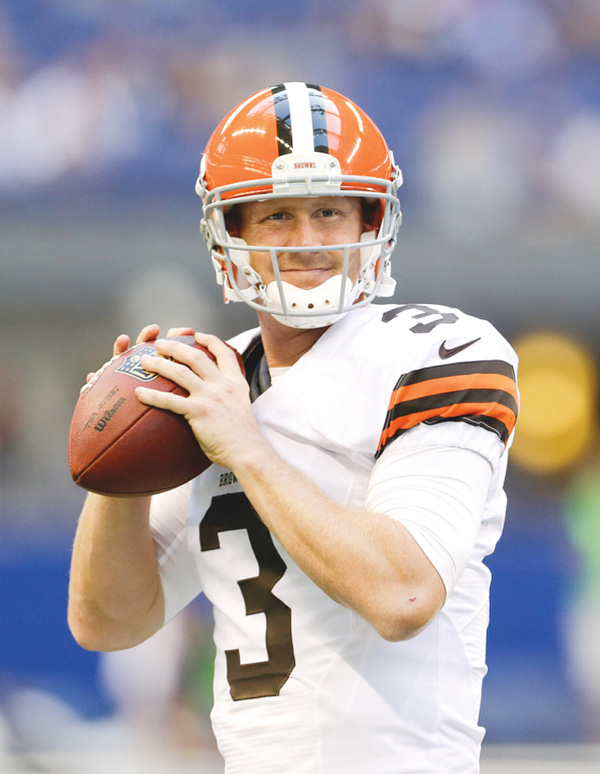 ---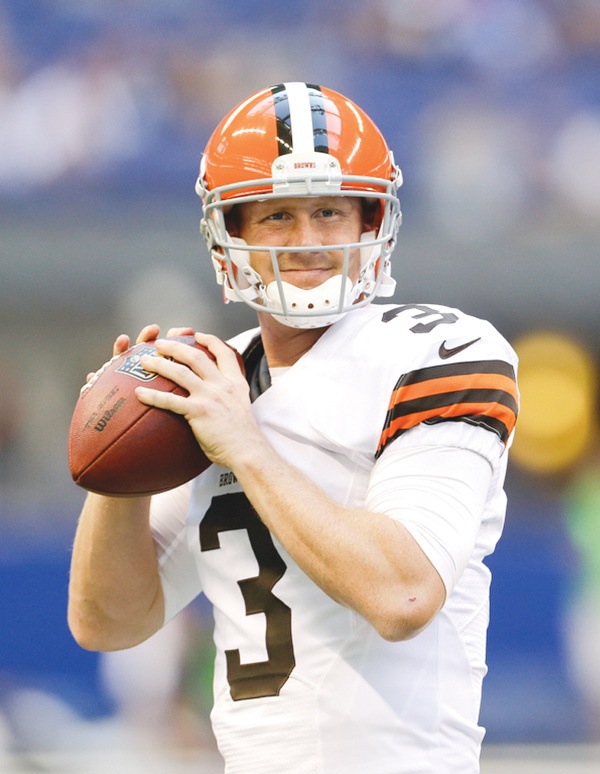 Photo
Cleveland Browns quarterback Brandon Weeden throws before Saturday night's game against the Indianapolis Colts at Lucas Oil Stadium in Indianapolis. The Colts beat the Browns, 27-6, but Weeden says he's not worried.
Associated Press
BEREA
Brandon Weeden's not worried, so he figures everyone else should chill out.
Relax. The games don't really count yet.
Weeden struggled and Cleveland's first-team offense sputtered during Saturday night's exhibition loss to Indianapolis. Following positive performances in the Browns' first two preseason games, Weeden's bumpy outing brought out some here-we-go-again comments by his critics and renewed anxiety among Cleveland fans with the Sept. 8 season opener against Miami quickly approaching.
Weeden, though, isn't uneasy.
"I don't think there is any reason to push the panic button like a lot of people want to," Weeden said Monday before practice. "But we've got to learn from it and we've got to get better. We've got to take the things that we didn't do very well and correct them and get better come Thursday (at Chicago) and moving forward when we play Miami."
Cleveland's offense didn't click against the Colts in a 27-6 loss.
After completing his first six passes, Weeden, who was so impressive in the Browns' first two exhibitions, was off the mark on some easy throws and forced a couple passes that should have been intercepted. The Browns didn't score on their first seven possessions, and coach Rob Chudzinski left his starters in for an extra series in the third quarter just so they could get a feel-good field goal.
There were dropped passes, two critical penalties, a fumble by wide receiver Greg Little and Weeden was often under pressure as Cleveland's offensive line had a tough time with Indy's quickness.
It didn't look good, but Weeden said it wasn't all bad and the Browns can learn from their mistakes.
"There were some things we missed, that's going to be like that every game," Weeden said. "We just couldn't get any momentum going. It's tough when you get in third-and-long situations, we made it tough on ourselves. Their defense played outstanding. Their coverage was great all night. I've watched the tape four times and all four times their coverage was really, really good.
"So, you gotta give credit where credit is due. They played well and we've got to play better."
Indianapolis was a playoff team last season and is at a much higher level than St. Louis or Detroit, Cleveland's first two preseason opponents.
The Colts may have brought the Browns back to earth, undressing them in the "dress rehearsal" for the regular season.
To Weeden, that's not a bad thing.
"Sometimes you need that," he said. "You need a little slap in the face to say 'Listen, you've got to keep continuing to grind.' It's human nature to get a little ahead of yourself, but what better timing? It doesn't count in the win-loss record for the regular season. We can correct all the mistakes we made, so we knew it was not going to be perfect all the time.
"It's just impossible to play 20 games throughout the regular season, perfect games. It's just not going to happen. We'd been pretty good the first two games. Now it's just how do we deal with that adversity? How do we move on? It'll be a big step for us."
Weeden said Cleveland's simplistic game plan may have contributed to the Browns not moving the chains.
And as for his "panic button" comment, Weeden said that if there is any negativity, it's coming from outside Cleveland's facility.
"The attitude in here has been great, so it's not in this room," he said. "We're excited. We saw the mistakes, but they are all fixable. That one is behind us and now we're looking forward to Chicago and that's going to be here before we know it."
LEWIS PLACED ON IR
Running back Dion Lewis' first season with the Browns is officially over.
As expected, the team placed Lewis on season-ending injured reserve Monday with a surgically repaired broken leg.
Lewis fractured his left fibula in an exhibition against Detroit on Aug. 15. He was injured after catching a short pass in the third quarter and being tackled by two Lions linebackers.
Lewis had surgery last week and coach Rob Chudzinski said then that the Browns were likely to put him on season-ending IR. If there was a chance he could return, the Browns could have placed him on a list that would have made him eligible after Week 8.
His loss is a blow to the Browns' backfield depth. In April, they traded linebacker Emmanuel Acho to Philadelphia in exchange for the versatile Lewis, who had a solid training camp and was expected to play on third down and as a change of pace for starter Trent Richardson.
It's possible the Browns may still try to sign another veteran running back because Montario Hardesty is still sidelined after having knee surgery. Brandon Jackson has moved up the depth chart behind Richardson.
Earlier, the Browns released wide receiver Jordan Norwood, who struggled with injuries during his three seasons in Cleveland and waived defensive end Dave Kruger, the brother of starting linebacker Paul Kruger.
The Browns also waived defensive back Vernon Kearney, wide receiver Cordell Roberson and linebacker Tommy Smith.