Stubbs' homer saves mistaken-prone Indians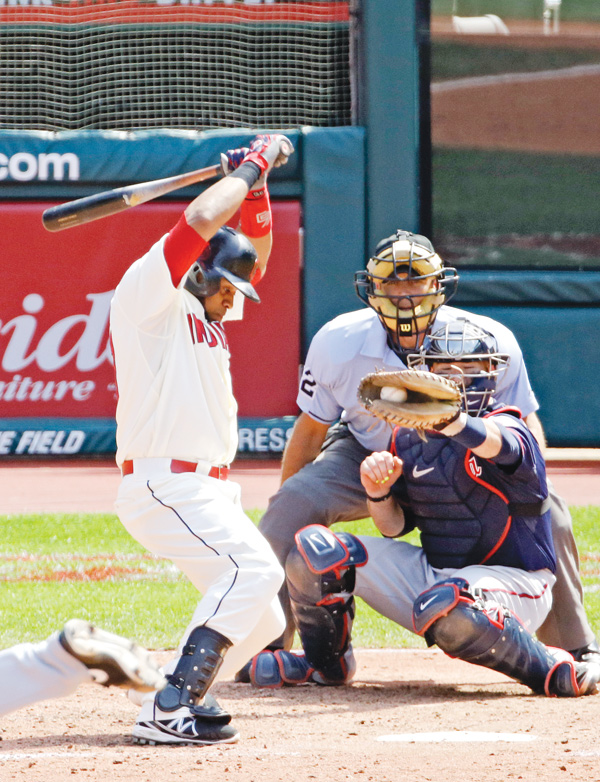 ---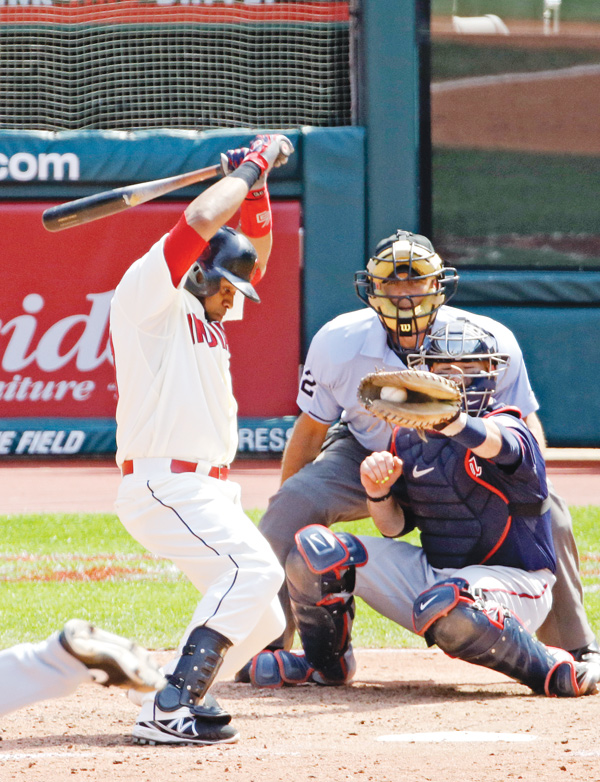 Photo
The Indians' Carlos Santana, leans away to avoid being hit by an inside pitch during the fifth inning of a baseball game Sunday against the Minnesota Twins at Progressive Field in Cleveland. The game was stalled 1-1 until the eighth inning Drew Stubbs hit a solo home run off Twins relief pitcher Jared Burton. The Indians went on to win 3-1.
Associated Press
cleveland
The Cleveland Indians looked like anything but a playoff contender for most of Sunday's game against Minnesota.
The Indians committed four errors and made several other mistakes, both in the field and on the bases. In other words, they did just about everything a team could do to lose.
As has been the case several times this season, however, manager Terry Francona's team defied the odds. Drew Stubbs hit a tiebreaking, two-out homer in the eighth inning and the Indians overcame themselves for a 3-1 victory.
"We were trying every way we could to give it away," Stubbs said. "We played a very sloppy game, but it says a lot about this team that we were able to hang in there and pull out the win."
Second baseman Jason Kipnis, who had one of the errors and drove in a run, had a similar point of view.
"When you try to lose and still win the game, that's pretty impressive," he said.
The win moved Cleveland to within 11/2 games of Oakland for the AL's second wild-card spot as the Indians start a crucial road trip to Atlanta and Detroit that begins Tuesday.
"It wasn't pretty, but it's a heck of a lot better when you win," Francona said. "We know we can't play like that, but we won and that's what we came to do."
Twins manager Ron Gardenhire struggled to come up with a reason for why his team lost.
"I don't know who was supposed to win the game," he said. "I know they won it with a couple of hits, but I don't know who was supposed to win. Sounds like we were. You make four errors, you're not supposed to win."
Stubbs homered to dead center on a 0-1 pitch from Jared Burton (2-7) to snap a 1-all tie and lift the Indians to their fifth win in six games. Joe Smith (5-1) pitched a scoreless eighth and Chris Perez worked the ninth for his 21st save.
Stubbs is making a habit of late-game saves. His two-run homer in the 14th inning on Wednesday was the key blow in a 4-1 win.
"It's just the way it goes sometimes," he said. "There's no real explanation for it."
Burton retired the first two hitters in the eighth before Stubbs hit his ninth home run of the season to the deepest part of the ballpark. Michael Bourn turned his routine hit to center by hustling into second for a double and scored on Nick Swisher's single.
Pitchers Scott Kazmir and Cody Allen and shortstop Asdrubal Cabrera had throwing errors while Kipnis dropped a soft line drive. The Twins failed to take advantage of the Indians' generosity.
Minnesota stranded 13 runners and was 3 for 19 with runners in scoring position.