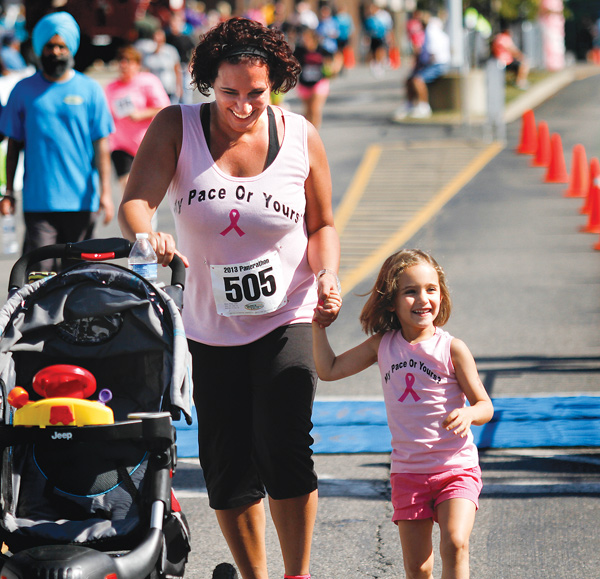 ---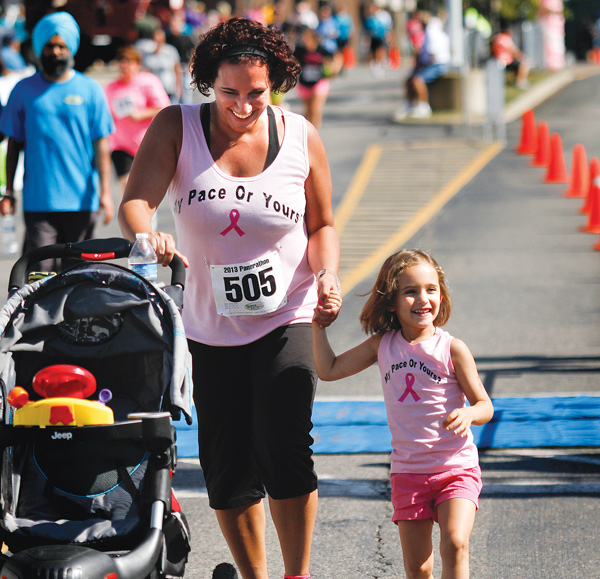 Photo
Chrisy Davis and her daughter Gabriella, 3, of Austintown finish their benefit walk together.
By Bob Jackson
YOUNGSTOWN
It didn't take long for Kathy Baker to chase visions of the Grim Reaper out of her head after she was diagnosed last year with breast cancer.
Like many breast-cancer patients and survivors, her immediate thought upon hearing the news was that she was going to die.
"Yeah, your mind does kind of go there," the petite 48-year-old survivor from Massillon said. "But then, almost immediately, the competitor in me, the runner in me, said I've got to fight. Being competitive by nature and being a runner probably has helped me."
Baker and some 25 of her friends and family members, who'd dubbed themselves the Hot Pink Harriers, were among the 8,000 who thronged Youngstown's downtown streets Sunday for the fourth annual Panerathon, which raises money to benefit the Joanie Abdu Comprehensive Breast Care Center at St. Elizabeth Health Center. True to their team name, they sported hot-pink shirts, and some even wore matching colored mohawk wigs.
It was their first time participating in the event, and Baker said she'd been invited by friends from Youngstown to take part.
"We wanted to come and support this cause," she said.
Jim Schultis, president of the Humility of Mary Health Partners Foundation, said this year's race generated about $250,000, all of which will go toward the Joanie's Promise Fund at the HMHP Foundation. The fund ensures all Mahoning Valley women access to life-saving screenings, care and services at the breast-care center, regardless of their ability to pay.
Liz Follet Fiorino, event coordinator, said some $750,000 has been raised through Panerathon proceeds over the past four years.
"Looking around here at all these people, it's overwhelming," Fiorino said before the race. "Everybody is touched by breast cancer, and I think the fact that all the money raised stays local, and that it helps real women right here in our community, really resonates with people."
Schultis expressed his thanks to sponsors Sam Covelli and Covelli Enterprises for their support of the event over the years.
"We couldn't do it without them," he said. "There's just no way."
Covelli said in a prepared statement he is continually amazed by the generosity of the community and the excitement created by Panerathon. "We keep finding ways to make the Panerathon bigger and better each year so we can keep making a difference in the lives of so many women and families across the Valley."
Participants had the choice to tackle either a 10K course or a two-miler and were free to either walk or run. The race began by having the runners and walkers pass through a huge arch of pink and white balloons.
Race teams came decked out in brightly colored shirts of nearly every hue, with team names and slogans splashed across the fronts and backs. They chatted and laughed as music blared, creating a carnival-like atmosphere before the race began.
"Take a look around at all this going on," said Gina Marinelli of the HMHP Foundation. "When do you ever see this many people in downtown Youngstown? It's amazing."
Dave Hersh, 63, and Gloria Kirila, 64, both of Brookfield, participated with the Cats for the Cure team from Struthers. Kirila said she was carrying the memory of a late loved one on her back as she walked.
"Two years ago tomorrow, I lost my sister-in-law to breast cancer," she said, wiping away tears. She had "Pamela" inscribed into the team insignia on the back of her shirt in memory of her sister-in-law.
Hersh said his mother, now 93, was diagnosed with breast cancer some 40 years ago, when the diagnosis generally did carry a death sentence.
"She didn't fool around," Hersh said. "She just, boom, had the radical [mastectomy] surgery and the radiation, and she's OK now."
Sharlene Senediak, 36, of Youngstown took part with Team Ta-Tas, which was mainly employees of the Mahoning-Columbiana Training Association, where she works. It was her first Panerathon, and she walked the 10K course.
"I mostly just wanted to take part in this community event and help bring awareness to breast cancer," Senediak said. "It's a great event, and it's grown so much over the years. Plus I've lost a lot of friends to breast cancer, so I just wanted to be part of it."
Fiorino said the number of entrants was up from 6,000 last year.
Dennis Quilty, 67, and his wife, Marilyn, 61, of Niles met up with their friends Donna Nellis, 66, and Mary Ann McMahan, 62, who also are from Niles.
"Donna and I walk together every day anyway, so we thought this would be a good way to walk for a good cause," McMahan said, noting that both are retired Niles schoolteachers.
Marilyn Quilty, who usually runs, said she was walking Sunday because of an injury, but her husband was running the two-mile course. She noted that she and Dennis have lost three sisters-in-law recently to cancer, two due to breast cancer.
"This event is such a great cause because it helps uninsured women to get care," she said.
Don Korpi, 48, was on hand with his 19-year-old daughter, Amanda, and 12-year-old son, Shawn. It was Amanda's third Panerathon because she'd participated in the past with the Boardman Lady Spartans soccer team. This was Don and Shawn's first go-around.
"We supported it when Amanda was in high school," Don said. "We just thought it was a good cause for a group of young ladies, so we keep coming back."
Fiorino said it took some 200 volunteers staffers to help pull off this year's event, and she's already looking ahead to the race being even bigger next year.
"We're not going to stop," she said.