Greatest Guin: Karzmer captures crown
Greatest Golfer Finals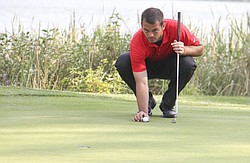 Gallery
Karzmer tops fellow YSU graduates
By Ryan Buck
Poland
Sunday began with three Penguins vying to be The Vindicator's Greatest Golfer of the Valley, presented by Famers National Bank. In the end, only one could be crowned King.
Former Youngstown State golf captain Jonah Karzmer held off fellow YSU and Boardman alumni Tim Morrow and Josh Zarlenga to win his first Greatest Golfer title in the Pete Mollica Men's Open division.
Karzmer entered the final round with a two-shot lead after rounds at Mill Creek and Trumbull Country Club.
"It was a long day," said Karzmer, who was once a senior teammate to Zarlenga and the high school coach of Morrow. "I didn't get off to a great start, but none of us did. It was one of those days where we tried to hit a lot of fairways and greens, make pars and try to hold on."
Despite the struggles, he led wire-to-wire for a four-stroke win.
"When I got a little lead with seven or eight holes to `play and I needed to hit fairways and greens, I did that and didn't give Josh or Tim an opportunity to really see me in trouble," he said. "That helped me out coming down the stretch."
School ties were strong Sunday.
"It was neat being in the final group with three Penguins," Karzmer said. "I, Josh and Timmy, we all played at different time periods, but all for YSU."
In the Women's Open flight, Toni Notaro built a 13-shot lead Friday and held on as she defeated former champions Joan Ash and Lori Bowden to win her first Greatest Golfer title.
"Playing with two accomplished golfers like Lori and Joan — they've got quite a golfing pedigree — I didn't think that lead was safe," Notaro said.
Some quiet reflection at the turn kept her on track after a tumultuous opening nine holes.
"I've lost a number of friends in the last eight months — they died young — and I thought about them," she said. "This is supposed to be fun. This is isn't life or death and it helped center me a little bit."
Joe Castor led the Men's 5-9 handicap groups by two strokes going into Sunday. After impressive rounds of 73 and 74 at Mill Creek and Youngstown Country Club, respectively, his final round got off to an inauspicious start.
"Today was an unexpected, difficult challenge because I started with double bogey on the first hole and I was a little shaken from that," he said.
Luckily, Castor had a steady hand on the bag in his son, Joe Jr. The son, who earned his C.P.A. license on Friday, helped his father find the right balance to escape the front nine with a 1-over 36.
"He was helping me, he was motivating me," said Castor, of Girard. "I actually thought I shot myself out of the tournament."
It was the back nine, however, where junior's help was needed most.
"I went out of bounds twice and hit the ball in the water," he said. "I only made two pars on the back side."
Castor struggled home before a pivotal sequence on the final green, a four-foot putt to win.
"My son said, 'Dad, you need to make this.'"
His putt and back-nine 46 edged out Doug McMullin by one stroke.
In the Men's 10-14 handicap division, John Hazy trailed by six shots heading into Sunday.
The Hubbard native, who was playing in his fourth Greatest Golfer event, quietly crept his way into contention throughout the day.
"It was one of those special rounds," Hazy said. "Everything was right there — putting, chipping and I don't think I missed a fairway."
Hazy's final round 73 and three-day total of 239 was two shots ahead of Michael Guerrieri and seven over Griffin Todd.
"I was just amazed that I came back," Hazy said.
Sean Tisone muscled his way to the Men's 15-plus handicap title. The man with a frame more suited for Mr. Olympia than The Lake Club extended his one shot lead after Day Two at Oak Tree to a three-stroke victory. Patrick Campbell and Steve Martin were second and third-place finishers.
"I just wanted to keep it all in check," Tisone said of the back-nine emotions. "I didn't want the wheels to fall off. I finished with a par and kind of knew I had it at that point."
In the Women's 9-plus handicap flight, Patty Brant erased a one-stroke deficit to Abby Cook. Her final round 81 and three-day total of 249 was one shot better than Jill Harmon, who also carded an 81 Sunday.
For tournament coverage, see The Vindicator in print and online at vindy.com/golf.