Boardman Fire Department receives new radio system, still needs updates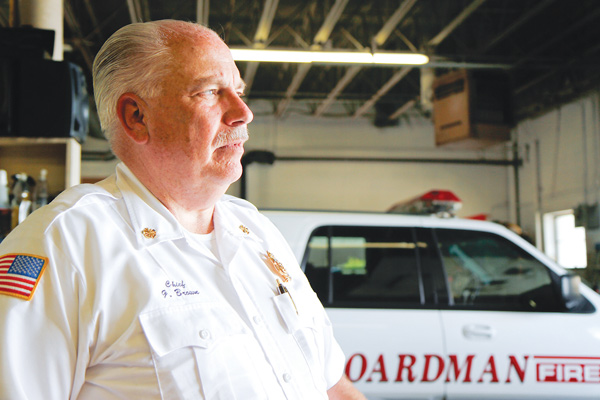 Photo
Boardman Fire Department Chief George Brown talks about his hopes for a new station to be built. The main station on U.S. Route 224 was built in 1923 and has a variety of problems, including mold in the basement and being too small to house its two new firetrucks.
By Kalea Hall
Boardman
A disabled communication system is not what any fire department wants, but that is exactly what happened to the Boardman Fire Department this summer.
Lightning struck the fire department in July and caused the station to lose the radios and phone system.
A radio system from Staley Communication Inc. in Youngstown no longer has to be borrowed. But because of the amount of damage done to the old system, the full cost for the new one is not yet known, Chief George Brown said.
After the radio was hit and disabled, firefighters for a brief time had to be called by cellphone to report to a structure fire. Within an hour, the department was able to use an old police frequency in order to hear calls.
"Communication is our key," Brown said. "Without communication it is difficult to function."
Now, both the radio and phone systems are up and running, but the department says it could still use some updates — starting with its quarters.
"[It is] absolutely a No. 1 priority," said Brown about the need for a new station.
The main station on U.S. Route 224 was built in 1923 and has a variety of problems from mold in the basement to just being too small. The station is so small that the department's two new firetrucks do not fit, so they must be stored at the South Avenue station.
Another issue is the heavy traffic on 224 causing safety problems for the firetrucks when trying to leave for a call.
Before any station is constructed, there must be a way to pay for it. Boardman Township trustees have made getting a new station a part of Boardman's 2016 plan. Building a new station is a project the township has wanted to see happen for the last 20 years, Brown said.
"This board of trustees has really taken an interest in it," Brown said.
Some renderings of a new station have been done, but the question remains how to pay for it and where to put it. A new station potentially could cost up to $3 million, Brown said. There are no brick-and-mortar grants to apply for that would help to fund a new station. The Boardman Fire Department operates on approximately $16 million annually, and there is not much left over, Brown said.
"We have to be able to buy other property," Brown said.
Brown said it is necessary for the station to remain at about the same location as the current one because it is where the most calls are received.
For now, the department utilizes the South Avenue station and the Shields Road station.