Vicarels celebrate 60th anniversary with family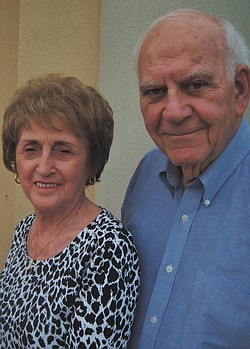 Photo
Mr. and Mrs. Fred Vicarel
BOARDMAN
Mr. and Mrs. Fred Vicarel of Boardman celebrated their 60th anniversary July 5 with a family dinner hosted by their children at Johnny's Restaurant.
Their children are John and Sandy Vicarel of Boardman, Fred and Anna Vicarel of Culver City, Calif., and Lori and Frank Mancini of Canfield. They also have five grandchildren.
The former Rita Palermo married Mr. Vicarel April 18, 1953, at Our Lady of Mount Carmel Church in Youngstown.
Mrs. Vicarel worked for Ohio Edison before raising her children.
Mr. Vicarel was a common pleas court bailiff for Mahoning County and Northeast District secretary for Ohio High School Athletic Assoc. and retired from both. He is a U.S. Marine Corps veteran.
The couple are members of the church and the former Amerital Club in Youngstown.
More like this from vindy.com