Open house honors Rhodeses' 50th anniversary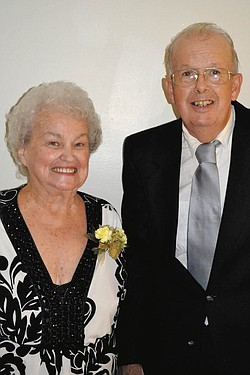 Photo
Mr. and Mrs. Norman Rhodes
CANFIELD
Mr. and Mrs. Norman Rhodes of Canfield celebrated their 50th wedding anniversary Aug. 3 with an open house at Berlin Center United Methodist Church. It was hosted by their children and grandchildren.
Their children are Cheryl (Jon) Markle and Nancy (Stephen) Passerini, all of Massillon; James (Michele) Rhodes of Columbiana; and Carolyn (James) Hampton of Lexington, Ky.
The couple have eight grandchildren: Jonathan and Scott Markle, Alyssa and Nathan Hampton, Mireille and John Mark Rhodes and Nicholas and Olivia Passerini.
Mr. Rhodes married the former Dorothy Duganne Aug. 10, 1963, at the former Berean Baptist Church in Youngstown.
Mrs. Rhodes was a secretary for McKay Machine Co. before her marriage. She was church organist for 31 years for Old North Church (the former Berean Baptist Church), the former Galilee Baptist Church and Berlin Center United Methodist Church.
Mr. Rhodes retired as a teacher at Fitch High School and was adviser for Mahoning County 4-H Market Livestock Judging Team.
The couple attend Ellsworth United Methodist Church and were advisers for Western Reserve Rangers 4-H Club from 1976 to 1989.
In 1985 the family was named the Canfield Fair Rural Family of the Year. They farmed for more than 40 years.