Martzes observe 50th with trip from children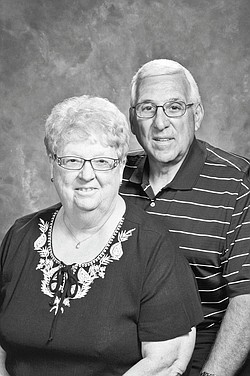 Photo
SALEM
Mr. and Mrs. Clyde Martz of Salem celebrated their 50th wedding anniversary Aug. 3. Their children honored them with a trip to Mackinac Island, Mich.
Mr. Martz and the former Shirley A. Howells were married Aug. 3, 1963, at Robbins Memorial Methodist Church in Washingtonville.
The couple have two children, Gregory (Susan) Martz of Burns, Tenn., and Mindy (Noel) Harris of Grafton, Ohio; and four grandchildren.
They are members of Greenford Lutheran Church.
Mrs. Martz worked in accounting and retired from Panelmatic Inc. in Youngstown in 2004, where she was a bookkeeper.
Mr. Martz had a career in engineering and manufacturing and retired from Commercial Intertech in 1999. He is a member of Greenford Ruritan Club, a life member of Salem Elks Lodge 305 and board member of South Range Council of Church and Community.