YSU police chief: Be aware of surroundings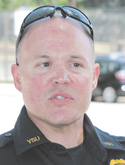 ---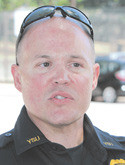 Photo
By Joe Gorman
Youngstown
Youngstown State University Police Chief John Beshara is urging students who live in or frequent the areas around campus hit by a recent rash of robberies to be aware of what's going on around them.
The term in police lingo is "situational awareness," and Beshara said it is important for people to know who and what is around at all times, especially at night.
"We need to be more in tune about what is going on around us," Beshara said.
The area of the North Side by the YSU campus has had five armed robberies and one attempted robbery since late Saturday evening, although none of the robberies has occurred on campus. A large number of students live off campus on the North Side, however, near the places where the robberies occurred.
On Thursday, a 19-year-old man told police he and a friend were robbed about 12:15 a.m. in the 400 block of Norwood Avenue on the North Side.
The man said he was walking to his car after attending a party when a man wearing a red T-shirt and a Chicago Bulls cap pulled a gun and demanded money. The man handed over his wallet, and the robber and another man ran west toward Belmont Avenue, reports said.
City and YSU police have been running extra patrols in the area since the first robberies over the weekend, and some of the city patrols consist of officers in unmarked cruisers.
YSU students who have signed up for the school's emergency alert system have received safety bulletins on two of the robberies that have happened close to campus, including the one early Thursday. Thursday afternoon, the system told students to exercise caution if they are going out late at night, especially if they are heading north of campus.
Beshara said a greater pitch is being made to educate students and others at the university of the situation and telling people what they should do. This will be on the university's website and also is being placed on fliers in all the buildings on campus, Beshara said.
In the other robberies, victims reported that two suspects, dressed in all black and wearing masks over their faces, robbed them.
City police Capt. Mark Milstead, who heads up the detective bureau, said investigators are checking people who have committed similar crimes in the past. Witness reports state the suspects appear to be either juveniles or under 20 years old, and detectives are looking at juvenile suspects also, Milstead said.
Investigators also have received tips from citizens in the area and are following up on them, Milstead said.
Beshara said other things people can do to stay safe is to go out in a group of people if possible, and if confronted, give up valuables immediately.
"Why fight over something that can be replaced?" Beshara said.
City officers working the unmarked detail have taken two guns so far off people they stopped and made a drug arrest Wednesday at 11 p.m., when Alfred Bunting Jr., 38, was found walking in the road in the 100 block of Benita Avenue. He ran from officers but was caught a short time later. Police found 19 Vicodin painkillers on him and $100 cash in his shoe.
He was taken to the Mahoning County jail and is expected to be arraigned today.