New farmer's market opens in Boardman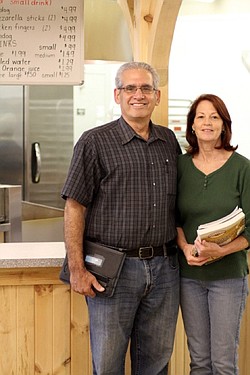 Photo
Neighbors | Chelsea Weikart Shar.Ron and Marianne Cohen, the owners of The Valley Marketplace, are shown standing in front of one of the food stands at the market.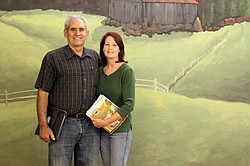 Photo
Neighbors | Chelsea Weikart Shar.Ron Cohen and his wife, Marianne, came up with the idea for The Valley Marketplace as third generation market owners. They are pictured standing in front of a mural painted by one of the vendors inside the marketplace.
By CHELSEA WEIKART SHAR
A once vacant parking lot where in the plaza on South Avenue in Boardman now fills up quickly on Thursdays, Fridays, and Saturdays for a unique farmer's market. The Valley Market opened it's doors for a soft opening, one without any advertisement or promotions, on July 18.
Ron Cohen, owner of the operation, said it went way better than expected, and for their second official week of operation, the parking lot was nearly full. Cohen comes from a family of farm market owners. In 1931 his grandfather opened a market place in Philadelphia for the Amish of Lancaster, Pa. to sell homemade goods. After the idea spread to New Jersey, and Maryland, Cohen thought he would bring his grandfather's idea here.
The Valley Market is indoors with thirty spots for vendors, only one of which remains vacant. In the meantime, it's being used as a sitting area for the vendors to wait on their taxis.
All but one of the vendors are from the Amish communities of New Middletown and Middlefield. Because they don't drive, several 15-passenger-van taxis take them to and from the market Thursday through Saturdays.
"I wanted to stay within an hour of here, because they don't drive," Cohen said.
Cohen is somewhat of a retail expert after being the third generation to run the farm markets out of Philadelphia and owning the Dollar Discount store franchise for 30 years. Most of the Amish he is working with, however, are brand new to retail.
Cohen knew that it would take convincing. With his iPad in hand with photos of his vision, he went knocking door to door asking if anyone would be interested in joining him and selling their products in the market. Met at first with much skepticism, when Cohen got the first bite he took the potential vendor to Philadelphia to see for himself what he might be a part of.
That trip was followed by an additional eight trips of potential Amish vendors in a 55 passenger charter bus.
"Some got really nervous and ended up not wanting to participate, but the ones that stuck around got more excited about it," said Cohen. "It's been a lot of fun. It's been two years I've been working with this project. Experience helps, you have to be open-minded."
Everything from furniture to meat to produce, doughnuts and candy are sold in the market. There is also a restaurant that serves a family-style Amish dinner.
The vendors pride themselves not in the best prices necessarily, but in the best quality.
"They can't compete with the best prices," said Cohen, "but I told some of the vendors to compete by creating the best quality."
Cohen said good quality and family values are what is so encouraging about the market. Most of the vendors hired family and friends to work at their booths.
"One vendor told me that it's her dream; she gets to work with all of her children every day," said Cohen.
The market is located at 6121 South Avenue, and is open Thursdays from 9 a.m. until 6 p.m., Fridays from 9 a.m. until 8 p.m., and Saturdays from 8 a.m. until 4 p.m.