Mother/daughter authors do book signing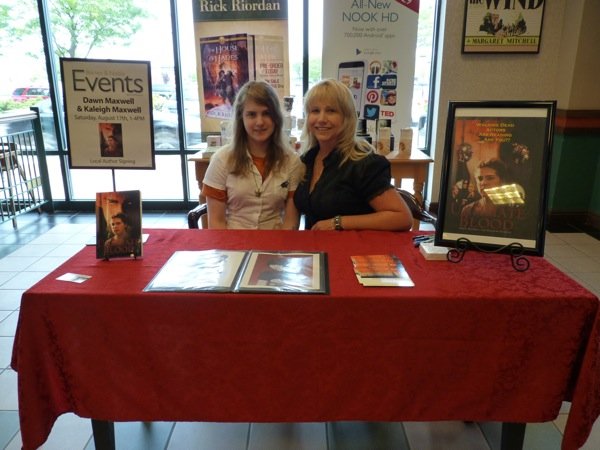 ---
By ELISE McKEOWN SKOLNICK
A pair of authors were at Barnes and Noble Aug. 17 to sign copies of their book. But this wasn't just any pair of authors – it was a mother and her teenage daughter. Dawn and 17-year-old Kayleigh Maxwell of Liberty teamed up to write "Ultimate Blood."
The book tells the story of 16-year-old Alec Somers who just wants to catch waves with his friends. But his father's job takes the family from California to a place in Louisiana filled with legends about wiccans, vampires and swamp creatures called wookies. Already haunted by vivid nightmares that seem to foretell of danger, Alec is about to find out if the legends are true.
The book was released at the end of Oct. 2012.
"We've had a lot of love and support from a lot of fans and we're really grateful for that," Dawn said. "That means a lot to us."
Though teen daughter and mother relationships can be full of disagreements, the writing of the book went smoothly. They had only one dispute.
Kayleigh said her mom wanted the main character, Alec, to be sweet and kind.
"I said, 'He's a teenage boy, at 16 he's going to be rebellious at some point,'" Kayleigh remembers.
But they worked it out.
"I went and took a shower, came out of the shower and said, 'You're right. You're absolutely right,'" Dawn said.
Lance Lumley and Casey Carman stopped to talk with them.
Though Lumley said the subject matter doesn't really interest him, he said it's nice to see local authors getting a chance to sell their work in a large book store.
Carman, on the other hand, is interested in the topic.
"I'm into that stuff," she said. "I'll probably read it. I'm definitely into vampires, werewolves, everything."
She also said it's "awesome" that a mother/daughter team wrote the book.
They both said it's encouraging to other authors trying to get into the publishing world.
The second book in what will be a three-part series is due out in late fall.