Chinese Red Cross officials visit local peers, view EMA equipment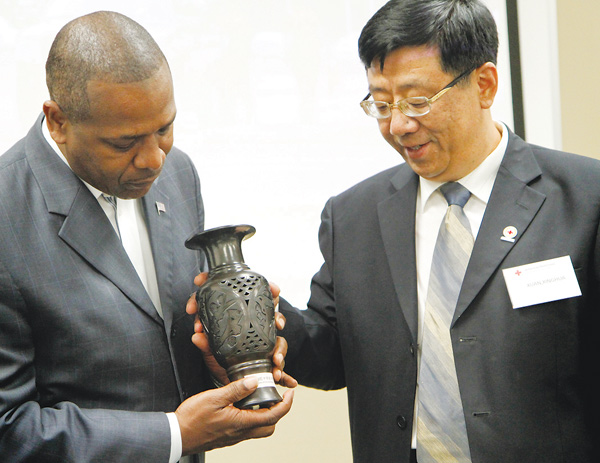 ---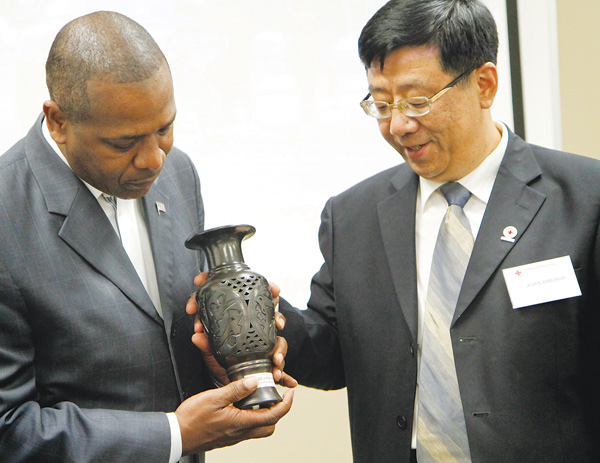 Photo
Warren Mayor Douglas Franklin, left, receives a vase as a gift from Xinghua Xuan, vice president of the Red Cross Society of China, Shandong Branch, during a reception for the Chinese delegation Thursday at the Mahoning County Emergency Management facility on Industrial Road in Youngstown.
YOUNGSTOWN
A delegation of officials of the Red Cross Society of China, Shandong Branch, visited Youngstown and the American Red Cross Mahoning Valley Chapter on Thursday to strengthen the relationship established 12 years ago.
They could have visited virtually any city and American Red Cross chapter in the United States but they chose Youngstown, said Florence Wang, past chairwoman of the Mahoning County Red Cross.
Wang was instrumental in making the connection that resulted in Youngstown, and now Warren, by virtue of the merger of the Mahoning and Trumbull county Red Cross chapters, becoming sister cities with the Red Cross Society of China's Qingdao Branch in Shandong Province.
A Red Cross branch in China is similar to a chapter in the United States.
"We want to keep a close relationship. We have 12 years of history," Xinghua Xuan, vice president of the RCSC, Shandong Province, said through Wang, who served as interpreter. "It benefits both countries and organizations," he said.
He said programs of the Chinese Red Cross include training local residents how to react to a disaster and help themselves, and urging citizens to become organ and body donors.
While their missions of providing assistance during disasters are much the same, the glaring differences between the two are size and organization.
Trumbull and Mahoning counties had an estimated combined population in 2012 of 442,551. Shandong Province, a coastal province in the East China region, has about 96 million residents.
Also, while the American Red Cross is a private nonprofit organization, the CRCS is government-funded and its officials are government employees.
Part of the Chinese Red Cross delegation's visit Thursday included a luncheon hosted by the Youngstown/Warren Regional Chamber at the D.D. and Velma Davis Education & Visitor Center in Fellows Riverside Gardens in Mill Creek Metro Park.
The chamber previously signed a five-year memorandum of understanding with the international trade group of China's Shandong Province, formalizing a trade and economic exchange between Youngstown and Shandong. The Chinese also met with Youngstown Mayor Chuck Sammarone before gathering at the Mahoning County Emergency Management Agency to meet with Red Cross and emergency management and other first responder personnel.
Boardman Fire Chief George Brown and Dennis O'Hara of the Mahoning County EMA gave overviews on how first responders work together during events such as house fires to major disasters; and Karen E. Conklin, executive director of the ARC of the Mahoning Valley, discussed how the Red Cross coordinates with first responders to provide assistance to victims of disasters.
The Chinese delegation also had an opportunity to view up close the emergency response equipment, including the EMA Mobile Command Center, the Mahoning County Crisis Response Team/SWAT (special weapons and tactics) vehicle known as "Bear," and the hazardous materials (HazMat) vehicle.
"The visit from the Red Cross of China is meant to strengthen the friendship of our international mission and share knowledge," Conklin said.