Cardinals escape close call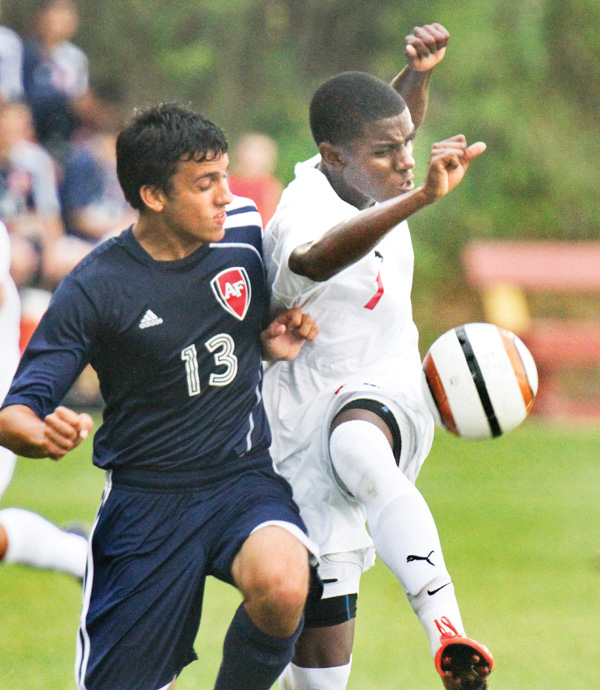 ---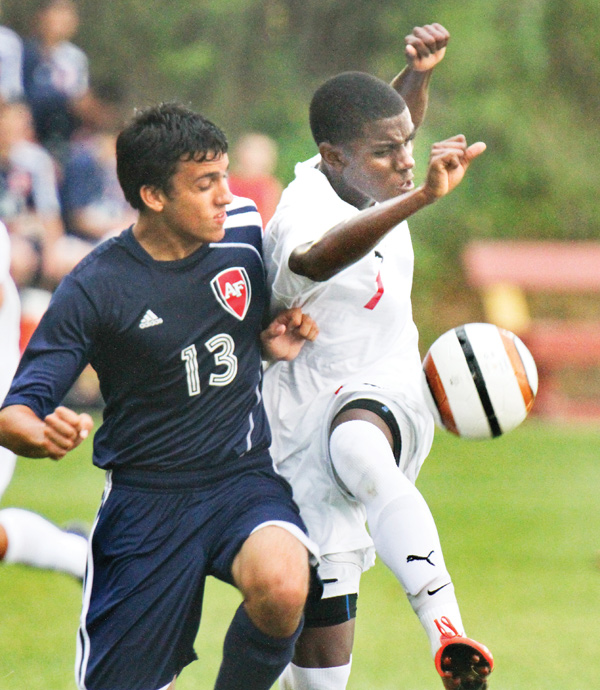 Photo
Fitch's Michael Jadue (13) and Mooney's Myles Harris go for the ball during Thursday's game in Struthers.
By Greg Gulas
STRUTHERS
Local teams have defeated the Cardinal Mooney boys soccer team just once over the past decade, giving the Cardinals a distinct home field advantage at the James Simon Soccer Park.
For 78 minutes and one second on Thursday night, the Austintown Fitch was poised to hand them their second setback.
But Jake Payne's goal with 1:59 remaining allowed Cardinal Mooney (0-0-1) to knot the score and settle for a 1-1 tie in their season opener with the Falcons.
The game, interrupted for 49 minutes in the first half due to lightning, might just have been the prescription the doctor ordered for Lou Cali's Cardinals.
"We're a young team and after giving up that goal just 60 seconds into the game, we needed to slow things down a bit," Cali said. "I told our kids exactly what they needed to do but most of all, to relax and just have fun.
"I told them, 'you're good soccer players.' "
Payne's initial goal of the campaign came with help from Myles Harris and Mike Myers.
"I came off the middle and the ball was bouncing around so I was able to sneak it by [Austintown Fitch goalie] Nick Sheely," Payne said. "We play club soccer together with Mahoning Valley United and while we're good friends, he's always kidding me that I don't have a left foot.
"It's kind of ironic that I scored the tying goal with my left foot."
It took the Falcons (1-0-1) just 60 seconds to get on the board, their only goal of the contest coming when Nate Bowlen's kick slipped past Cardinal Mooney goalkeeper Jeremy Billett.
It was one of just two shots they could manage on Billett in 80 minutes of play.
"Giving up that goal was a wake-up call for us. This is our first game of the year and our defense played flat in the early going," Billett said. "Our defense then got their focus and we all agreed that we couldn't let them score again.
"From that point on, it was just a good overall team effort."
Bowlen said their goal was to grab the lead early.
"I just came through the back and was able to finish the play," Payne said. "I saw a little gap in the bottom left corner and was able to sneak it past their goalie for the score.
"We have some speed on this team so we try to use it to our advantage."
Cali called Payne a really gifted soccer player.
"In practice, we talked about not letting Jake [Payne] touch the ball," Cali said. "Once he touches the ball though you cannot let him turn because once he does, he's very dangerous." "He's the fastest in the area, bar none and can beat you with his speed alone."
Falcons coach Brian Stiles praised his senior goalie, whose season started by not allowing a goal for the first 158 minutes and one second.
"Nick [Sheely] is a three-year starter and an excellent goalkeeper," Stiles said. "We're young at a lot of key spots, having graduated seven seniors from last year's team.
"We're not quite ready just yet to make that one big play. We'll learn from this and only get better," Stiles said. "We surprised them with our speed on the first goal, but once they adjusted they made it a game."
The Cardinals held an 8-2 shots on goal advantage.