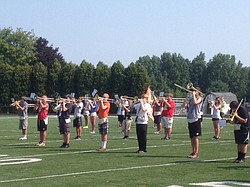 Photo
Neighbors | Submitted.The Canfield Pride marching band will perform Aug. 27 at the annual band night. The night starts at 7:30 p.m. at Canfield High School's Cardinal Stadium and tickets may be purchased at the gate.
The Canfield High School "Cardinal Pride" marching band's 39th annual Show of Bands will be Aug. 27 at 7:30 p.m. at the Canfield High School's Cardinal Stadium.
This year, the Cardinal Pride will debut its new show for the 2013 season, "Urban Lights," in honor of the band's invitation to march in Chicago's prestigious "Magnificent Mile Lights Festival" parade in November, as well as brand new uniforms.
For more than 50 years, the Canfield Band Parent's booster club has supported its students. The organization raised funds for more than 12 years to purchase the new uniforms.
Canfield's first band night was offered in 1974 with Fitch under the direction of Larry Snell (Fitch) and Tony Cebriak (Canfield) and is considered to be one of the oldest band nights in northeast Ohio. The 2013 program will feature seven high school marching bands from around the Valley, including Austintown, Boardman, Champion, Poland, Struthers, West Branch, and the host band, Canfield. These students have been preparing for their shows since late July.
Tickets and programs will be available at the gate for $5 for adults, $3 for seniors and students, and children under 5-years-old are free. All proceeds will go to support the Canfield Bands music program.
To stay up to date on all the latest news for the Canfield Band, find it on Facebook or at the website www.canfieldbands.com.