Dentist, editor offer career day inspiration to East Side students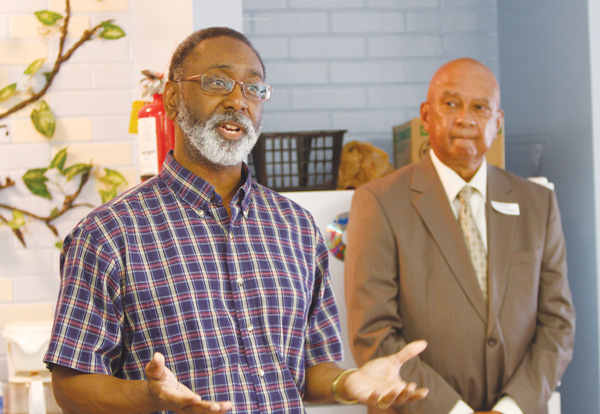 ---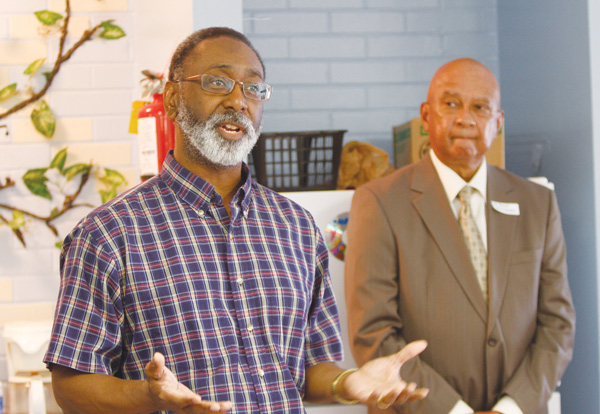 Photo
Ernie Brown, regional editor and columnist for The Vindicator, tells of his days in high school and college at the Plaza View housing complex. Thursday was career day for high school students who live there. In the background is Dr. James Hovell, a dentist and moderator for the event.
By Sean Barron
YOUNGSTOWN
Fifteen-year-old Tyrand James is on a path that he hopes will take him to Ohio State University and a career as a marine biologist.
But the Chaney campus sophomore also is well aware that along the way, he needs to receive his diploma — and believe in himself.
"I see how many people wanted to help out, so that inspires me," Tyrand said, referring to a series of speakers he heard during Thursday's Career Day gathering at the Plaza View housing complex off of McGuffey Road on the East Side.
The 90-minute event, geared toward Plaza View high school students, further solidified those priorities for Tyrand, who also explained that the April 2010 Deepwater Horizon oil spill in the Gulf of Mexico and other such disasters made him want to help marine wildlife.
Roughly 20 students and adults attended the forum, themed "If It Is to Be, It Is Up to Me." Sponsoring the program was the Youngstown Area Development Corp.
"Life is nothing more than options. The less education you have, the fewer options you have," Henry Holden Jr. told the youngsters.
Holden, director of L.E. Black, Phillips & Holden Funeral Home, discussed his diverse careers before becoming a funeral director and mortician. His first job paid $8,500 annually, recalled Holden, who also worked about 18 months in Miami to build a bus- maintenance facility.
Tying everything together, Holden said, was having a solid education, skills and a dream.
Echoing that view was Dr. James R. Hovell, owner of Youngstown-based Hovell Dental Care, who also moderated the program.
Hovell noted that in addition to completing college, attending trade and technical schools can lead to good-paying jobs. But graduating from high school and not giving up are pivotal toward that endeavor, he added.
Along those lines, it's vital to finish high school, follow one's dreams and have a backup plan if primary goals don't work out, noted Ernie Brown, regional editor for The Vindicator.
Brown talked about having taught two years, as well as graduating from OSU and earning a degree in broadcast journalism. He also urged the youngsters to maintain positive self-image.
Others attendees heard from were Kimberly Thompson, who grew up at Plaza View and became St. Elizabeth Health Center's chaplain; Laurice Abduliah, YADC's secretary; and Christine Cordy, Plaza View's property manager.
Plaza View has 186 one-, two- and three-bedroom apartment units with 210 children, roughly 32 of whom are in high school, noted James Glenn, YADC and Plaza View's secretary and treasurer.