Published: Fri, August 23, 2013 @ 12:01 a.m.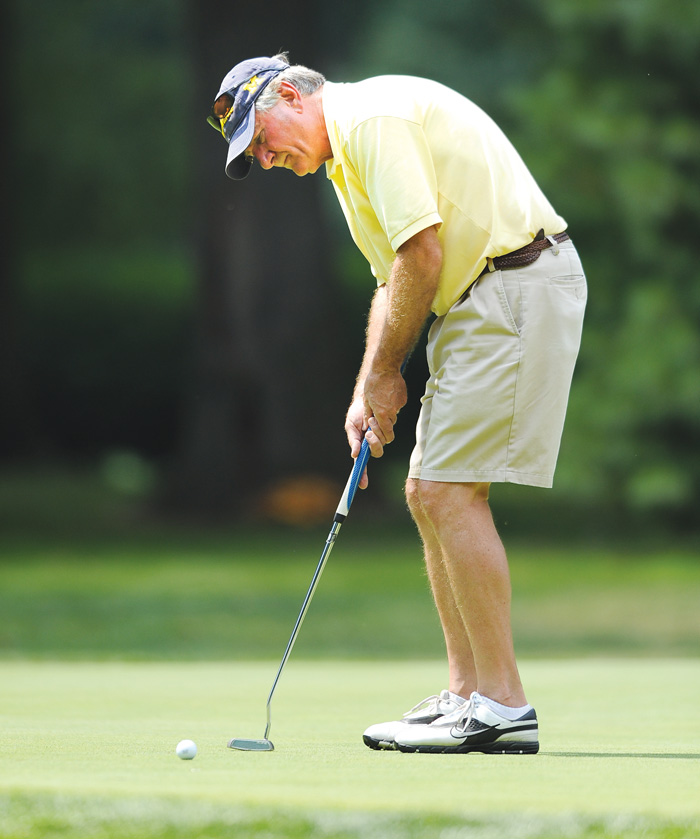 Photo
Ray Vershum of Canfield follows through on his putt on the 12th hole Tuesday afternoon at the Trumbull Country Club. Vershum will be one of more than 300 golfers taking the course at Mill Creek today in the Senior division of the Greatest Golfer of the Valley tournament.
Mill Creek North Tee Times/Scores
Mill Creek South Tee Times/Scores
By ryan buck
rbuck@vindy.com
BOARDMAN
One can expect plenty of smiles on area links this week, but also some slumped shoulders and the shaking heads.
The biggest day of golf in the Mahoning Valley deserves the best course conditions.
All 310 players stepping up to the tees at Mill Creek Golf Course today will get them ... and more.
This year's hosts of The Vindicator's Greatest Golfer of the Valley, presented by Farmers National Bank, will give competitors a championship-like atmosphere and championship-worthy challenges.
Mill Creek superintendent Scott Kayla and his staff will have the course in ideal shape for today's play, with extra attention paid to the greens.
"Weather permitting, we'll double cut and roll them in the morning," said Kayla, who is completing his first golf season as head superintendent. "It'll definitely speed the greens up with a closer cut."
The bumps and skips that frustrate the players at most courses will be eliminated also.
"Rolling the green will make a smooth surface," Kayla said. "There won't be nearly as many abnormalities."
Mill Creek's greens won't be the only test. The staff has allowed the rough two extra days' growth.
Saturday's action has more of the same.
After rounds at The Lake Club and Trumbull Country Club earlier in the week, many players walked off the course amazed by the aesthetics and, at the same time, the difficulty.
Oak Tree Country Club, making its first appearance as Greatest Golfer host, has made the adjustments with the amount of rainfall this season.
Kevin Vanoverbeke, Oak Tree head golf professional, knows the greens will be dry and firm after a week without rain, but wants a fair set-up.
"They're very large greens," Vanoverbeke said while preparing his facilities for the three flights that will descend upon Oak Tree on Saturday. "They have a lot of undulation, but we'll make sure it doesn't get out of control."
Even before players set foot on the greens this weekend, the pin placements will be key.
Each course has its own preference, but most generally look to give players chances to score instead of shaky knees and sweaty palms.
"We don't have to trick out the course," Tippecanoe Country Club head professional Michael Spiech said. "The better player wins. Here, you have to hit every club in your bag. They're not going to be unfair."
There is a strategy to pin placement, he said.
"We try to make six with medium difficulty, six easier and six more difficult. We adjust with how hard the hole is, if the tees are up and the wind conditions."
Jonah Karzmer, a former Youngstown State golfer before a brief professional career, enjoys the strategizing before approaching the greens.
"It definitely makes a different, especially on how aggressive you can get," Karzmer said. "It ties your hands a bit forces you to play a bit safer."
Regardless of the ways the courses plan to defend their honor, they want players to walk away with a memorable round.
Vanoverbeke said he feels Oak Tree will make a great first impression.
"We're excited to get everybody here," said Vanoverbeke. "We've had a lot of practice rounds in preparation for this weekend.
We're excited for players to see what we have to offer and we're glad to be involved."
Play begins today at 8 a.m. at Mill Creek.
For all tournament coverage, see The Vindicator in print and online at vindy.com/golf.