Wolfe-DeCapua wedding plans are announced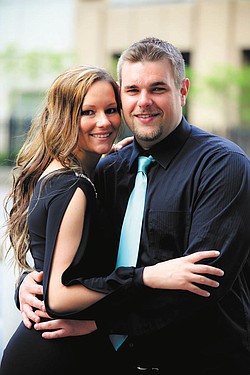 Photo
Ashley Wolfe and Colby DeCapua
Mickey and Lynette Wolfe of Struthers and Dick and Faye DeCapua of Brookfield are announcing the engagement of their children, Ashley Wolfe and Colby DeCapua, both of Willoughby Hills, Ohio.
The couple are planning a 5 p.m. ceremony and a 7 p.m. reception Sept. 21 at The Lodge at Geneva, Geneva-on-the-Lake, Ohio.
The bride-elect earned a bachelor's degree in nursing from Youngstown State University.
She is assistant nurse manager on the telemetry unit at University Hospitals Ahuja Medical Center, Beachwood, Ohio.
Her fiancé earned a bachelor's degree from YSU and a master's degree in physician assistant studies from Lock Haven University.
He is a physician assistant specializing in adult total joint reconstruction at Cleveland Clinic Foundation.