World War II veterans recognized, pinned in Liberty
---
By EMMALEE C. TORISK
LIBERTY
Vets honored in Liberty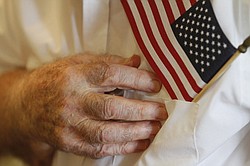 Gallery
Seventy-one years ago this month, Glenn L. Buzzard enlisted in the Marine Corps. He was just 16, going directly from work in a West Virginia pottery plant to combat training at boot camp.
When Buzzard was discharged as a corporal three years later in 1945, he'd fought the Japanese in Roi-Namur, Sapain, Tinian and Iwo Jima, receiving two Purple Hearts in the process.
On Wednesday afternoon, Buzzard and five other World War II veterans who live at Windsor House at Liberty Arms Assisted Living Residence were recognized for their military service by Crossroads Hospice Cleveland.
The ceremony, which featured a military pinning and a balloon release, was simply an honor to attend, Buzzard said. It was the first such event at Liberty Arms, though Crossroads had visited one of its sister sites in Champion for a similar ceremony last month. The ceremonies are all part of Crossroads' "Honor Our Veterans" Recognition Campaign.
"I love it," Buzzard said. "I'm proud to do this, and I will do it as long as I can stand up."
In addition to Buzzard, veterans honored during the ceremony were Andrew Bozin and George Plevniak, both of the Air Force; Ted Roguski and Ray Schwab, both of the Army; and James Wood, of the Navy.
Near the start of the ceremony, Jodi Stoyak, a Liberty Township trustee, presented a proclamation to the veterans on behalf of the trustees, explaining that it was a pleasure to be in attendance.
"I have a very warm spot in my heart for those who served us in order to keep our country safe and live in freedom," Stoyak said. "It was very moving, and I got a little tear in my eye, as I usually do."
During the ceremony, Sgt. Thomas P. Smith, a Crossroads nurse and a Marine Corps veteran who served from 1984 to 1990, pinned each of the six veterans with a small American flag on their lapel, thanking them for "advancing the universal hope of freedom and liberty for all."
"Some of these veterans haven't been recognized for 30, 40, 50 years, since they walked out of the service," Smith said. "It's an honor to be able to do this."
Smith also pinned Vice Adm. Kenneth Monroe Carr, of Chagrin Falls, who spent 42 years in the Navy, beginning in 1943. Carr spoke about his military experiences to fellow veterans, residents and employees during the Liberty Arms ceremony, which was his first.
"They tell me we're losing a lot of World War II veterans, and I'm glad to see they're not all gone," Carr said. "I want to recognize the people who helped save this country."
The ceremony also included prayers by the Rev. Matt Doerle, Crossroads chaplain, and the singing of patriotic songs, including "America the Beautiful." The event culminated in the release of star-shaped balloons into the sky.
"It's a wonderful tribute to those lost through the years, who served our country to protect what we have today. We release the balloons in their memory," Smith said. "We're also sending them off with our love, thoughts and prayers to the soldiers still in harm's way."